StewMac Ultimate Scraper Instructions
Scraping and sharpening instructions.
I-0631
Watch the video! In our free online video, Al Carruth shows how to use and sharpen the Ultimate Scraper. Watching Al, you'll see how easy this is.
The best scraper for arched instruments
At 1/8" thick, the Ultimate Scraper is much thicker than a standard steel scraper blade. The custom rounded shape suits the curves of archtop instruments. The straight edge is good for all flat wood surfaces, making this a good all-purpose scraper for instrument work.

Because of its thickness, you can't flex this scraper as you do with a spring steel blade. The best technique is to hold the scraper nearly vertical as you push with both thumbs at the point the scraper meets the wood.

Keeping the scraper vertical prolongs the sharp edge. The angle created by tipping the top of the scraper forward will dull the sharp edge more quickly.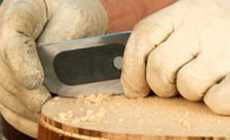 Sharpening the Ultimate Scraper
Keep the scraper sharp with a fine-grit grinding wheel and a sharpening stone (or fine grit sandpaper on a flat surface). The wheel's curvature creates a hollow-ground (concave) edge, and the flat sharpener keeps the sides clean and flat.

For a good cutting edge, the scraper's sides must be smooth and flat; if they're uneven, the edge will be uneven, too. Smooth the sides of the scraper by laying it on your flat sharpening surface and sliding it in a circular motion.

Set your grinder's tool rest so the wheel touches at the exact center of the 1/8"-thick scraper. If you lightly touch the scraper to the turning wheel, the mark created shows whether you're centered, or whether the tool rest needs adjustment. Coloring the edge with a felt-tip marker will make these marks easier to see.

With the wheel lightly touching the exact center of the scraper edge, grind around the entire edge of the scraper.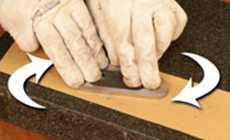 Between grindings, you can keep the sharp edge by whetting on the flat sharpening stone (or sandpaper). Lightly dress each side, then turn the scraper and dress the straight edge.