StewMac Ultimate Scraper
It's the best scraper we've ever used!
Revolutionary tools, unsurpassed for smoothing wood surfaces, arched instrument tops, bindings and more.
For an ultra-smooth wood surface, nothing beats a good sharp scraper. Veteran luthier Al Carruth has given the simple scraper a revolutionary makeover, with practical improvements for stringed instrument work: the original Ultimate Scraper. We added a second mini version that's popular for working in tighter areas.

Go for the rectangle/concave scraper when you need to keep a good, tight, square corner in binding channels and neck pockets. Also great for smoothing bindings and many steps of making a new neck. Thanks to renowned bass luthier Michael Tobias for suggesting this new shape!


Refined shapes are superior for arched tops and flat or curved surfaces.
1/8" thickness adds stiffness and greatly reduces chatter.
Two working edges for scraping with both pull and push strokes.
Durable tempered steel edges, for smoothing harder woods.

At 1/8" thick, Ultimate scrapers are much beefier than standard scraper blades. Two cutting edges let the tool work in both directions, without flexing and with less chattering. That saves a lot of time and effort! The tempered tool steel holds a more durable edge, too. The shapes are specially refined for hand-contouring and graduating arched instrument tops and backs, as well as smoothing bindings and flat surfaces.

Dimensions
#0631 Original: 3-3/4" x 1-11/16" (95.25mm x 42.86mm)
#0632 Mini: 2-1/2" x 1-1/2" (63mm x 38mm)
#0623 Rectangle/Concave: 3-7/16" x 1-13/16" (87.31mm x 46.04mm); three straight edges plus 20"-radius concave edge

From luthier Al Carruth:
"In Il Segreti di Stradivari, violin maker Simone Sacconi wrote 'scrapers were made from blades of sabers. Since they were of very hard steel one could not turn the edge and therefore they were used like a knife.' When I began working with violin maker Carleen Hutchins she used such a scraper. This is, in my estimation, the best possible scraper for builders of arched instruments.

"It works on the same principle as scraping with a broken piece of glass; a common technique among carpenters. A very hard material can take an exceedingly keen edge and when it is perpendicular, as it is in broken glass, it can last for a long time even if the material is brittle. This tool has the advantage over glass of having a shape that is well defined and re-sharpenable."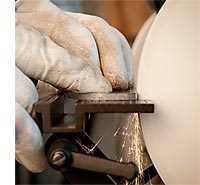 How Al sharpens his scraper:
"I find it easiest to hollow grind the edge perpendicular to the centerline of the scraper. Simply set the tool rest on your grinder perpendicular to the wheel and grind all around. Use as fine a wheel as possible and don't apply too much pressure. If desired, the edge can be further dressed on a fine stone with or without a guide block.
"In use, this scraper will give an extremely smooth cut even on soft or highly figured wood. It has little tendency to chatter due to its weight and does not heat up. It is much easier on the thumbs than a "normal" scraper as it is not "sprung" in use. To re-sharpen simply lap the surface on a fine stone and re-grind the edge."

Watch the video! Al Carruth shows how to use and sharpen the Ultimate Scraper. Watching Al, you'll see how easy this is.
Fast, simple sharpening for our Ultimate Scrapers (and more!)
The grinding wheel of our Mini Grinder for Ultimate Scrapers is the correct diameter for maintaining the hollow-ground edge of the Ultimate Scrapers. We also added a custom steel table to perfectly support the Ultimate Scrapers and keep them level while sharpening.
These beefy scrapers are thicker than standard scrapers, and with two cutting edges they present some challenges when it comes to sharpening. If you use our Ultimate Scrapers, then our Mini Grinder is the tool you need for a quick and accurate edge. The second wheel is an abrasive fiber that's useful for cleaning and deburring metal parts too.
California Proposition 65 Warning
Cancer and Reproductive Harm