Original ABR-1 Tune-o-matic Bridge
The original, not a look-alike. This is the genuine bridge, from the manufacturer who makes the originals.
Manufactured since the 1950s, this Tune-o-matic bridge is 100% true to the original.
The brass saddles are supplied without notches, for custom string spacing in your shop. The adjustable intonation screws are held by a retainer wire. Knurled height adjustment thumbwheels and threaded mounting posts are included.
String spread 2-1/32"
(51.56mm)
Saddle radius 12"
(304.80mm)
Post spacing 2-29/32"
(73.66mm)
Post threads

6-32 x 1-1/16"
About bridge & tailpiece measurements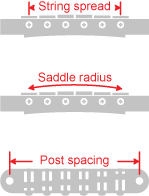 String spread is the distance between the centers of the outer strings on a bridge or tailpiece.
Saddle radius determines the arc formed by all the individual saddle heights, and is similar to the measurement of a fretboard.
Stud/post spacing is the distance between the centers of the mounting posts of a bridge or 'stop' tailpiece.
Tip: Slotting Tune-o-matic style saddles
Nut slotting files work great for metal saddles. Choose your file size as you would when slotting a nut: use the same gauge as the string, or a few thousandths larger. After filing to the desired depth, we suggest polishing the slot with Mitchell's Abrasive Cord to remove file marks and burrs.
4616-C
0.144 lbs. (0.07 kg)

4616-G
0.144 lbs. (0.07 kg)

4616-N
0.144 lbs. (0.07 kg)
California Proposition 65 Warning
Cancer and Reproductive Harm
Original ABR-1 Replacement Parts