GuitarSlinger Cryocated Aged ABR-1 Tune-o-matic Bridge
We love a guitar that's been played hard and maybe has a few scars, it's been making music for decades. With adventures comes injury and loss—and a shiny new replacement part is going to ruin the mojo.
GuitarSlinger has expertly recreated those hard to find parts to vintage specs to restore your treasured road dog. Each hand-aged piece has the grit, grime, and vibe to be right at home on your well-loved guitar.
Cryogenically-treated hardware
Going one step further, each piece is cryogenically frozen or "cryrocated", exposing the hardware to extremely low temperatures (-292°F/-180°C) which shortens the relicing process and stabilizes the metal. GuitarSlinger states that the treated hardware has richer harmonics and higher conductivity.
Authentically aged bridge, post, and thumbwheel set
Cryocated metal and aging stabilization treatment
Handmade—each is unique
The original tune-o-matic upgrade
Debuting in 1962, the "wired" ABR-1 quickly solved the problem of saddles falling out of the earlier "non-wired" model. Countless players upgraded to this bridge almost immediately. Since then it's been installed on millions of Gibson® Les Paul®, SG®, 335 models, and more. Using historic factory specs and materials, it's a vintage correct drop-in upgrade for your favorite guitar.
Also available as an aged non-wired ABR-1 bridge.
Dimensions:
String Spread: 2-1/32" (51.56mm)
Saddle Radius: 12" (304.80mm)
Post Spacing: 2-29/32" (73.66mm)
Post Threads: 6-32 x 1-1/16"
Features:
Unnotched brass saddles for custom string spacing
Closed-bottom construction
Includes steel posts and brass thumbwheels
About bridge & tailpiece measurements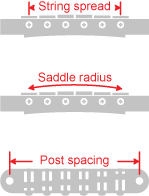 String spread is the distance between the centers of the outer strings on a bridge or tailpiece.
Saddle radius determines the arc formed by all the individual saddle heights, and is similar to the measurement of a fretboard.
Stud/post spacing is the distance between the centers of the mounting posts of a bridge or 'stop' tailpiece.
Tip: Slotting Tune-o-matic style saddles
Nut slotting files work great for metal saddles. Choose your file size as you would when slotting a nut: use the same gauge as the string, or a few thousandths larger. After filing to the desired depth, we suggest polishing the slot with Mitchell's Abrasive Cord to remove file marks and burrs.
102096

0.

178

lbs. (0.08 kg)
Les Paul® is a registered trademark of Gibson Guitar Corporation.
California Proposition 65 Warning
Cancer and Reproductive Harm