ABR-1 Tune-o-matic Bridge
A 1960s style Tune-o-matic bridge for the vintage look, with adjustable intonation screws held by a retainer wire.
Bridge saddles are slotted. Knurled height adjustment thumbwheels and threaded mounting posts are included.
String spread 2-1/16"
(52.37mm)
Saddle radius 14"
(355.60mm)
Post spacing 2-29/32"
(73.81mm)
Post threads

M4 x .7
About bridge & tailpiece measurements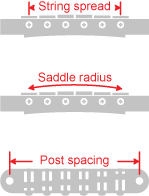 String spread is the distance between the centers of the outer strings on a bridge or tailpiece.
Saddle radius determines the arc formed by all the individual saddle heights, and is similar to the measurement of a fretboard.
Stud/post spacing is the distance between the centers of the mounting posts of a bridge or 'stop' tailpiece.
4566-G
0.1140 lbs. (0.05 kg)

4566-GU
0.114 lbs. (0.05 kg)

4566-N
0.1140 lbs. (0.05 kg)
California Proposition 65 Warning
Cancer and Reproductive Harm