SUPERCHARGE
YOUR AXE
Build your own sound with simple mods. We'll show you how.

You Can Do It—Upgrading Your Guitar is Easier Than You Think!
For most guitar upgrades, with a little patience, a little knowledge and the right tools just about anyone can turn a good guitar into an amazing guitar.

We're Here to Help

Not sure where to start? Here's our guide for making the most common upgrades our customers ask us about.

Better Tone Starts With Better Parts
Upgrading your hardware is an easy way to instantly improve the tone, tuning stability, and playability of your guitar. From drop in upgrades to major mods, we'll help you find what your guitar needs.
Need a new feel? Swapping a neck is easier than you think, and will get you one step closer to finding the right playability for your guitar.
It's amazing how new saddles or a bridge will change the tone and playability of your guitar. For vintage vibe or modern performance, we've got the hardware you need.
Tired of going out of tune? This simple upgrade will keep you playing longer without worrying about anything but your tone.
Be your own tech
You'll find no better book for doing your own setup and maintenance than this trusted guide from the world's best-known guitar repairman. Dan Erlewine packed this second edition with more photo-illustrated tips for guitarists and technicians. He shares expert setup and adjustment techniques, with valuable trade secrets along the way.
Give Your Guitar a New Voice
Swapping pickups is a fast way to find your tone. Whether it's pure vintage PAF tones or modern active power you're craving, we've got the pickups to take your guitar in any style.
Get the tone right from the source. These are the same pickups used in Fender and Gibson's USA production models. The tried and true tone will easily upgrade your axe.
If you're seeking a more boutique tone for your guitar, Seymour Duncan has built pickups for Hendrix, Jeff Beck, and countless others. When you're ready to take a deep dive into tone, this is where to start.
If it's pure vintage you want, Golden Age pickups are the answer. Built just like the 1950s originals, these have the tone that defined rock.
Looking for something completely different? Filter'trons by TV Jones have a unique and powerful sound that will redefine your guitar's tone.
Skip the wiring and get straight to playing. Wired in the Fender factory, these pickups will upgrade your Strat in 5 minutes.
If you want total flexibility and high gain power, EMG makes active pickups that will turn a tame guitar wild.
First time swapping pickups? It's easy! We'll show you how to do it right.
TOP 3 GUITAR CARE TIPS THAT ANYONE CAN DO!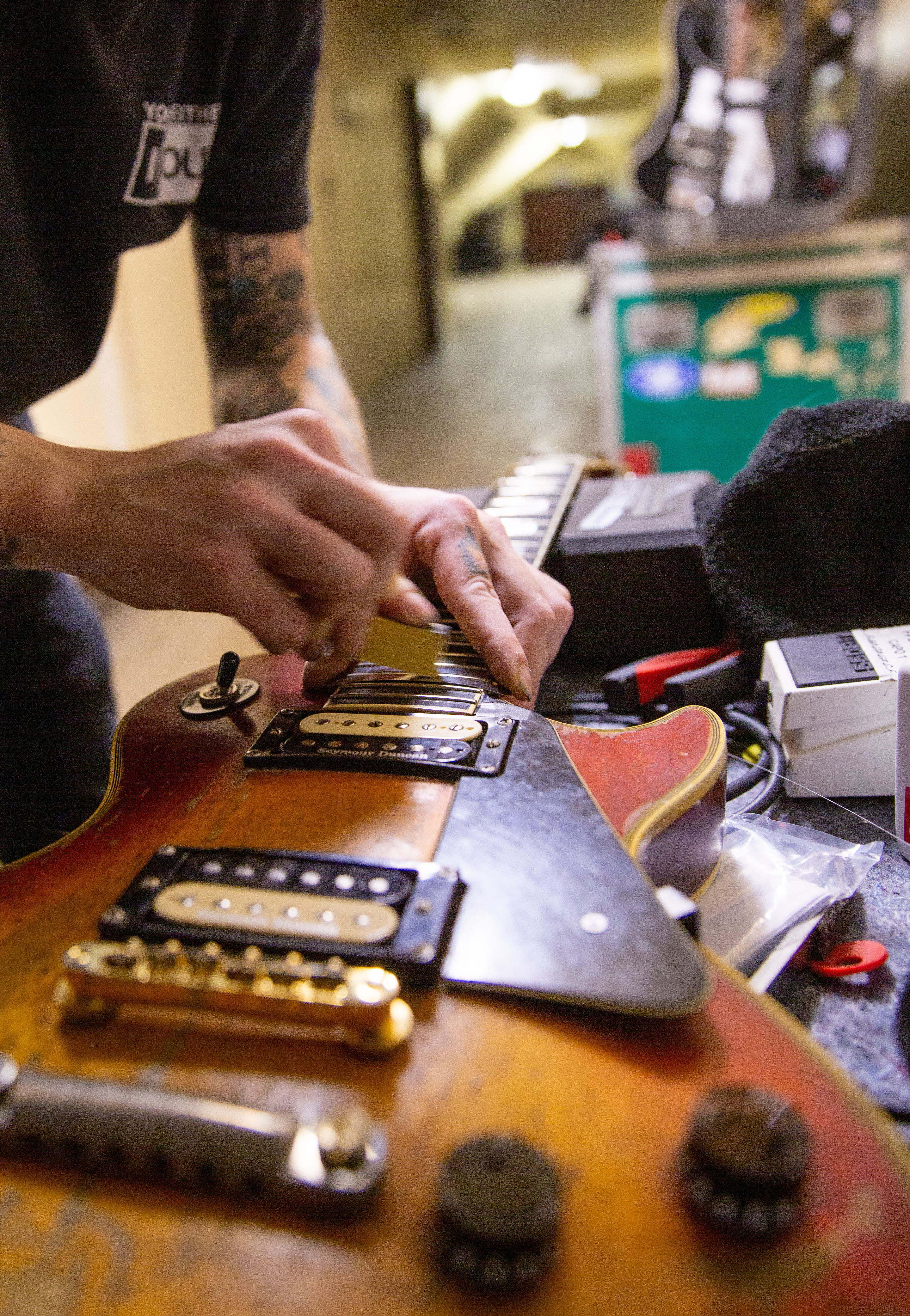 1. Neck Adjustment
The first step in setting the action on your guitar is to evaluate the neck adjustment. Some players like a straight neck, while others prefer a little bit of relief in the fretboard. Straightedges are used to read necks in professional shops, but you can also us the low E string of your guitar to evaluate your neck adjustment.
2. Setting Action
Once the neck is adjusted you can set the action at the bridge. Tune-o-matic style bridges are easily adjustable using the thumbwheels on either side of the bridge. Individually adjustable saddles require the use of Understring Radius Gauges to make sure the radius of the bridge matches that of the fretboard. Action is a matter of player preference, we suggest a starting point of 5/64" between the bottom of the low E string and the top of the 12th fret, and 1/16" between the bottom of the high E string and the top of the 12th fret. You can easily get the right action with our String Action Gauge.
3. Pickup Height
After dialing in a comfortable action you can set your pickup height. Final height depends on the style and ears of the player. To determine the height of your pickups, hold the strings down at the last fret and measure the distances between the bottom of the low and high E strings and the tops of the pickup polepieces. A good starting point for humbuckers is 1/16" between the bottom of the low and high E strings and top of the pole for the bridge pickup. 3/32" for the neck. If using single coils we suggest 5/64" between the low E string and top of the polepiece, 1/16" for the high E.
Small Tweaks With Big Results
If you already love your sound, but your guitar is just not playing right, buzzes when playing, or is noisy, we've got simple solutions. From simple setups to fret work and electronics, it's easy to upgrade your guitar inside and out.
If your fret ends are rough, or your frets play slow, this set will make your guitar play comfortable and fast.
Action too high, or hearing buzzes? These tools will let you dial in the perfect set up for your playing style.
Don't have the right tool? Don't risk stripping out a screw or worse breaking one off. We've made this set specifically for guitar hardware.
Tired of that awful crackle? Hear nothing when you flip the pickup switch? Contact cleaner takes care of those problems instantly.
Hearing pickup noise and hum? Adding shielding will reduce electrical noise, and let you hear the tone you've been missing.
Keep all your gear running smooth. If you like swapping pickups, fixing pedals, or modding amps. these are the right tools for the job.