Use a Fret Setter upside down for faster fretwork!
Issue 23 March 29, 2007
A simple tip to speed up fretwork in your shop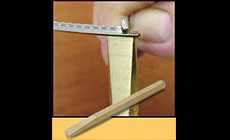 Here's a great Trade Secret e-mailed to us by Jason Ingrodi, a guitar repairman in Cumberland, Maryland. Jason uses the Fret Setter to hold a fret upside-down while he files the tang for bound fingerboards.
---
This little tip is a real time-saver!
Jason Ingrodi e-mailed his Trade Secret along with a shop photo: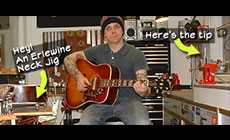 Dan, I want to share a trick, since you've shared so many with me.

I can't imagine what it must have been like to notch fret ends before the fret tang nipper came along, but even with it speeding things up, I still file the underside of each fret end to make it smooth. Holding the frets steady to file them was a wrestling match until I thought of this:

I clamp a fret setter upside down in my nut & saddle vise. The notched end gives me a groove to rest the fret crown in. This way, the fret stays put while I file it smooth. I can go through a whole neck's-worth of frets much faster this way. It cuts my time in half!
I wanted to share this little trick with you, since you appreciate this sort of thing. Anyway, I can't thank you enough for all you've taught me through your books and videos!

Thanks,

Jason Ingrodi, Cumberland, MD
Thanks, Jason!
That's a great tip. And here's some more on this idea: This picture from stewmac.com shows what the fret tang nipper does, quickly removing some of the tang from beneath the crown of the fret.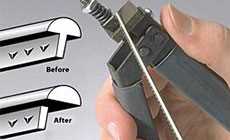 Here's a closeup of the business end of the nipper: that angled cutting blade pulls down and chops the tang out from under the fret.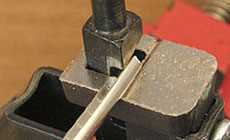 The nipper removes the tang instantly, but you'll still want to lick it with a nut shaping file to make it really smooth. Clamping and unclampling each fret end in a vise this way isn't as fast as Jason's idea.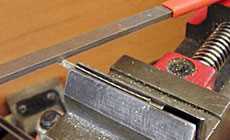 Before the tang nipper came along, bound fingerboards meant at least two snips at each end of each fret, using a fret cutter as shown below.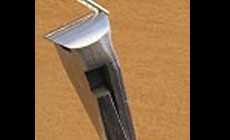 This method does a good job, but it's slow: making two cuts at each end of about two dozen frets adds up to around a hundred cuts.
This idea is a lot faster.
Just lay the fret in the groove of an upturned fret setter, held in the vise. When you're filing each end of 20-plus frets, you can see how this saves time. (In this picture, a tiny fret-end dressing file is cleaning up the fret tang.)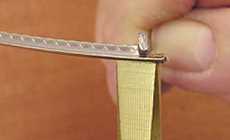 Jason, your tip is going out to lots of folks who appreciate ideas like this: Trade Secrets readers. And it's going to save us all a lot of time.