Shellac for French-polishing a guitar finish
V-6180
Dan Erlewine shows that shellac is great for finish repairs and for creating a French polish finish: a good gloss without spraying.
Video Transcription
Dan Erlewine: I use shellac for brush touch ups on vintage repairs, as a barrier coat under a new finish, and especially for French polishing [on-screen text reads: Dan Erlewine - Stewart-MacDonald]. That's what I'm doing here.
Preparing the shellac
I'm going to lay down a coat of clear shellac over this area that I airbrushed with colored shellac yesterday. I'm using platina shellac, it's the clearest shellac I've found. That's two ounces of the dry shellac flakes with eight ounces of Behkol solvent. My polishing pad is a piece of cotton T-shirt with two cotton balls inside, and I wrap them up tight into a pad. I pour this off into these little cups. They have repair magnets in their bottoms so they don't tip over, that holds them onto that steel ruler. A good dose of shellac, plenty of it, a nice squirt of alcohol. That's ready to go.
French polishing with shellac
Now I'm going to start at this end and move that way. You want to glide on the guitar, not stop. If you stop, you're going to stick to it. I'm going to let this sit for a minute and show you the shellac.
We have four shellacs, just platina, ruby, garnet, and caramel amber. One of them is a waxy shellac, that's the caramel amber. The other three are dewaxed, they have no wax in them.
I like the dewaxed shellacs because they make a great sealer under lacquer and I end up doing that a lot. They're great for French polishing, but you do have to use oil in the process.
This is my third session and I'm getting a good build. You should come over here and look at it from this angle. It's beautiful. This is a big reason that I love shellac and love using it.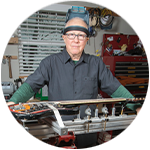 Dan Erlewine
Guitar Repairman and Builder