About Dan Erlewine's New Repair Videos
A brief introduction to Dan Erlewine and his new instructional repair videos.
A-DANERLEWINE
When Dan's guitar shop videos first appeared in 1984, they broke new ground: for the first time, an experienced guitar repairman shared his skills and welcomed newcomers into the craft by teaching on camera.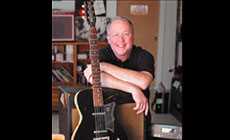 These videos have provided valuable schooling to luthiers around the world, and have started many careers. Now Dan's videos have been more than updated: in 2001, Dan filmed a whole new series to replace his old tapes. These volumes include fresh ideas, current tools, and new techniques. Benefit from Dan's forty years of repair experience in this new series.

Dan has completed the filming, and is editing these tapes himself (maybe someday he'll make how-to tapes on making videos!).
These popular videos have been converted to DVD!:
Maintenance & Setup for Electric Guitars and Basses

Maintenance & Setup for Steel-string Acoustic Guitars
About Dan Erlewine
Dan Erlewine began playing guitars - and tearing them apart - in 1960, and never stopped. Now a leading guitar builder and repairman, Dan's creations include Albert King's famous inlaid "Flying V" guitar, and a custom model for Jerry Garcia. He has also built and repaired guitars for Luther Allison, Mike Bloomfield, Ted Nugent, and other top artists. Dan is the world's best-known educator on Guitar Repair. His instructional videos, first released in 1984, still lead the field.
A Guitar Player Magazine columnist since 1985, Dan is also the author of several books:
How To Make Your Electric Guitar Play Great!

We're proud to have Dan on our product development and education team here at Stewart-MacDonald.