ShopStand: solving the space problem in a cluttered shop
Issue 78 January 08, 2009
Solving the space problem in my cluttered shop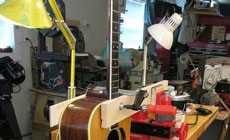 I was wrestling with my power tools over the limited floor space, and the tools were winning...
---
I'm crazy about tools
After years of buying at auctions and sales, I'd filled my shop with power tools: buffer, grinder, drill press lathe, bandsaw, power hacksaw, big belt sander, vertical belt sander, and more. Most of these didn't get used a lot, but they sure took up a lot of room. My shop was cramped and cluttered.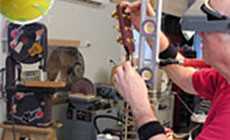 This lack of elbow room was slowing me down, so I rearranged my workspace around two ShopStands: one is a versatile workbench and the other is... Well it becomes whatever I need it to be. I'll show you what I mean.
Tip 1: The not-so-plain workbench
On a ShopStand, I made the best workbench I've ever had. Solidly bolted to the floor, it supports a mahogany plank holding a guitar repair vise. This simple bench rotates on the ShopStand's ball bearing, and height-adjusts for sitting or standing. It hardly takes up any more room than the guitar I'm working on.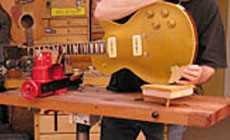 This idea really comes in handy:
This Telecaster is held in the repair vise, and the body is lifted above the benchtop clutter by a leather-covered riser on a brass post.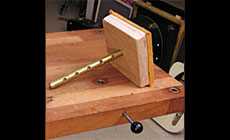 The post fits a hole in the bench, and a pin through the side makes it height-adjustable. The guitar is safe from the clutter of tools that build up while I'm working.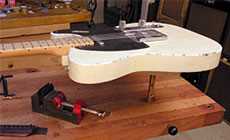 Tip 2: Store tools on your wall
Fitted with an angle vise, my other ShopStand becomes many tools standing in the same space: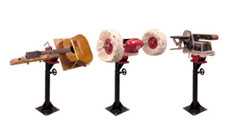 I put this ShopStand in front of my exhaust fan — a perfect spot for making a mess with a belt sander or buffing arbor, because all the dust and fluff shoots out the fan.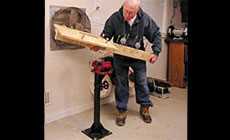 I mount tools on platforms that hang on the wall like the buffer above, or sit on a shelf. Under each platform is a piece of 3/4" plywood for the vise to grab onto.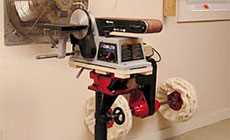 Here's a tip
Put a block of wood at each corner to serve as feet for standing the tool on a shelf or on the floor.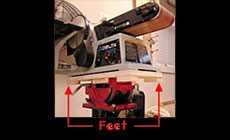 ---
Check it out!
The Angle Vise is a pivoting work holder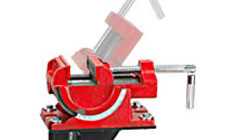 This sturdy steel vise mounts to your drill press, mill or workbench to hold jigs and fixtures. It tilts your work from horizontal to vertical, or anywhere in between. The perfect addition to our height-adjustable Erlewine ShopStand.
---
Tip 3: More tools in the same space
The ShopStand is sturdy enough to hold this 60-lb. metalworking vise for sawing, pounding, drilling and tapping. Also shown is our arbor press for fretting: the height-adjust feature of the ShopStand makes using it a breeze for sitting or standing.

In the picture below is a small worktable I can set up when my main bench is busy. On the right below, is the spray room of my shopmate Elliot: he uses a ShopStand with a guitar repair vise and a handy holding fixture. This is a prototype of our upcoming hands-free spray jig: it works great! (Keep an eye on Trade Secrets to know when it's available.)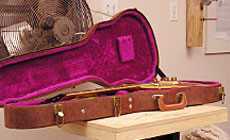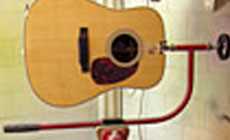 So my same old shop space is a lot roomier now, and I'm having fun rigging up new jigs to use the ShopStand for every sort of job. I guess with all this new capability I'll stop taking pictures and get working!