My friend Carl's bridge gluing tips
Issue 234 January 15, 2015
From Dan Erlewine: "My friend Sui Keung Ho aka Carl, was visiting from Hong Kong, and spent a couple days in my shop. I was making this Trade Secret about gluing a bridge, and Carl chipped in with an additional tip. Thanks, Carl!"
About the guitar in this video: Back in the day, the owner of this 1950s Vega flattop played it all over Ohio. Bob's band opened for stars like Roy Acuff and Ernest Tubb — pretty high stakes for a guitar picker!
In this Trade Secrets video:
Using a wooden caul on an Ibex clamp
Alternative: Modifying that Ibex clamp
Another alternative! Carl's mod to our Bridge Clamping Caul
Video Transcription
[on-screen text reads: Stewart-MacDonald - Trade Secrets! Carl's bridge gluing tips]
Dan Erlewine: Here's my friend Carl. He's visiting me from Hong Kong China. Carl's a fellow repair man and he loves to wear his blue NASA jumpsuit. He's going to help me out with a trade secret, and he's also got one of his own to show you.
Today I'm working on a guitar that I've never worked on before. It's a Vega Flat Top from the 1950s. It was owned by a country singer in Ohio named Bob. Haven't you always wanted your name in glitter on your guitar? Bob played this guitar all around Ohio with his band and opened for Roy Acuff, Ernest Tubb, Hank Thompson, and a lot of famous names. Now, years later, the guitar has fallen into disrepair and his daughter brought it in to have it rebuilt for the family.
Right now, I'm concentrating on the bridge area because the original bridge split down the center and pulled off a lot of wood when it came off. I've patched that in with spruce and Hide Glue because that's what was used and I've made a new bridge for it from a Rosewood Bridge Blank [on-screen text reads: Learn to make your own bridge - Dan Erlewin's Bridge Repairs from StewMac], and I'm about to glue it on.
Using a wooden caul on an Ibex Clamp
Since I'll be using the hot hide glue for this job, I need to move fast. The glue goes down, the bridge sets in place, and I'll come on with the bridge clamp [on-screen text reads: Bridge Clamping Caul]. That'll hold the center down and press down on the wings. I hold that in place with an Ibex Clamp that has a block of wood taped onto its lower foot. And then I will pop in there with two 5" soundhole clamps to get this area and a good even pressure. I tape a block of wood to the bottom foot of the Ibex Clamp [on-screen text reads: A must-have for bridge work - Ibex Bridge Clamp from StewMac] because that foot will hit the brace inside if I don't. The wood block allows the clamp to span the brace and put pressure where it's needed. Carl and I modified the Ibex clamp, so we don't need the block of wood anymore. But before we get to that, Carl's going to give you a tip of his own.
Carl's mod to our Bridge Clamping Caul
Carl: For this job. You don't really need the nylon caul here [on-screen text reads: Remove Nylon Caul]. I'll unscrew it until it pops off like this. And then I would drill a hole on the center of the top of this bridge caul so that they don't move around.
Modifying the Ibex Clamp
Dan Erlewine: Now Carl and I will show you what we did with the bottom jaw. We sat down this weekend and did this to the clamp. We drilled a hole through the bottom [on-screen text reads: F bit = .257" (6.53mm)] using a letter F drill bit, and then we tapped it 5/16ths 18 [on-screen text reads: Find a clamp that fits - Soundhole Clamps from StewMac] because that's the thread size on the soundhole clamp that let us steal the foot off a soundhole clamp and put it on this clamp. So there's no glue on this yet, but this is what it would look like when we glue it up with the Carl and Dan clamp. You've got the strong Ibex with the adjustable foot on the bottom, two bridge wing clamps to push down on the wings, and two soundhole clamps with their own adjustable feet pushing up from the inside.
Carl: Dan, this is the guitar that I just built. It's an OM, and I love the maple back. Do you want to try?
Dan Erlewine: Oh yeah. Oh, it's beautiful. Wow. Smells good.
[Dan plays Carl's acoustic guitar, the guitar sounds bright and clear]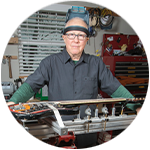 Dan Erlewine
Guitar Repairman and Builder