Easy, affordable way to make your own custom-fit guitar case
Issue 84 April 02, 2009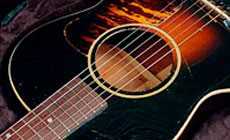 For the few most-common guitar shapes, it's no problem to find a hardshell case. But what about all those guitars that are too big, too small, or just plain odd?
---
How do you protect an odd-shaped instrument?
This old cardboard guitar case is a goner. It's so warped, the case itself is liable to hurt the guitar when it's lifted it in or out. And it's a bad fit, so the guitar rattles around inside. It never provided good protection, even when it was new.
The guitar is a 1939 Gibson L-00, with a small body that doesn't fit most ready-made cases. And the owner doesn't want to shell out big bucks for a custom case.
I found a simple solution: modify a LiteCase
LiteCases are built on an expanded-foam frame that's easy to carve. Unfasten the tough nylon outer skin and you have access to the frame, which you can easily enlarge, reduce, or reshape. This works like a charm for making an affordable custom-shaped case.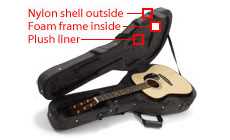 Here's a larger guitar that I made a custom-fitted case for.
Here's an old Epiphone archtop that's too big to fit down into a dreadnought-size LiteCase. Laying the guitar on the open case shows that there's enough room to fit the guitar, if the Styrofoam core is reshaped.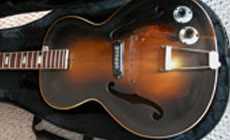 To get at the foam, I used our guitar tech's screwdriver set to remove the Phillips screws around the lower half of the case. This let me pull the outer covering down, exposing the edges of the inner plush lining. The plush is fastened to the core with contact cement, and it can be pulled away.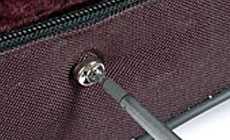 With the plush liner pulled back, I trace the guitar's shape onto the foam to show where material needs to be removed. With a sharp seam separation knife, I cut out my shape.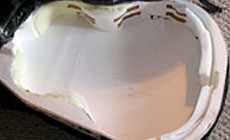 The waist of this archtop is tighter than a dreadnought, so getting a custom fit there means adding material to the foam. I used a sheet of urethane foam from the craft department at WalMart. They also carry a spray adhesive that works well with this.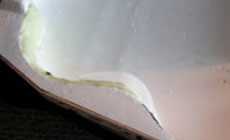 I cut it into strips the height of the case wall. It trims easily. After test-fitting, I applied spray adhesive and put my patches onto the foam framework. Binding tape holds these in place until the glue dries.
Putting the case back together is simple: the plush lining still has the tacky contact cement, and sticks right back in place. If a spot feels loose, a little of the spray adhesive will fix it. Smooth out any wrinkles and pull the edges back over the top of the Styrofoam.
Pull the outer cover back into place, and zip the case shut. Now you can put the screws and washers back into the same small holes they came from. When I was all done, I left the case open long enough for the spray adhesive to dry thoroughly, so any vapors had plenty of time to dissipate before I zipped the guitar inside.
Making a custom case for a small guitar
It's even easier to modify a case for a smaller instrument like the L-00. Starting with a 000-size case, I pull back the fabric and add urethane foam until I get a good fit.
This picture with the black fabric still in place gives a good idea of how much foam I needed to add.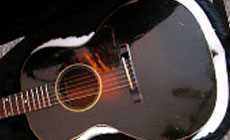 Fitting even more unusual shapes
I've also modified LiteCases to fit other guitars. (A 12-fret Maccaferri type Gypsy jazz guitar fits very nicely in a 12-fret 000-size case.)
Dreadnought-size LiteCase:
Upper boody bout: 12" wide
Lower body bout: 15-3/4" wide
000-size LiteCase:
Upper body bout: 12" wide
Lower body bout: 15-1/4" wide
Electric Guitar LiteCase:
Cavity is 13" wide x 18-3/4" long
As long as the instrument is smaller than the case, your search for that impossible-to-find case is over!