TonePros NVR2G Nashville Tune-o-matic Bridge with G Formula saddles
Upgrade your Nashville tune-o-matic with TonePros. One of the electric guitar's easiest upgrades, TonePros' locking functionality instantly improves any stock bridge system. For most guitars, it's a drop in replacement. The TonePros NVR2G is an ABR1-style replacement bridge that is designed to fit US standard,"Nashville" style guitars, as well as ABR-1-equipped guitars and comes with unnotched ivory-colored nylon saddles for custom installation.
This bridge is loaded with saddles using a special proprietary formula based on the original vintage Nylon 66 saddle material found in guitars of the late 50s and early 60s. This new material retains the tone of the original Nylon 66 saddles, but adds other hi-tech ingredients that provide a new "slippery" surface. This prevents string breakage and provides superior durability, preventing saddle wear and the breakage problems of earlier Graphite materials.
What's the easiest, most simple way to improve any electric guitar? Upgrading to top-quality hardware! Increasing sustain and improving tuning stability, TonePros' patented locking functionality makes guitars come alive with rich, vibrant harmonics, transferring more resonance from strings to hardware to guitar, causing superior overall tone. Simply put, TonePros' locking hardware makes the entire guitar ring as one solid piece.
Includes the bushings, posts, and wrench.
String spread 2-1/16"
(52mm)
Saddle radius 12"
(304.80mm)
Post spacing 2-29/32"
(73.5mm)
Post threads

10-32
TonePros NVR2G features:
Unnotched ivory-color nylon saddles—soft enough to reduce string breakage, but won't break or disintegrate
Closed-bottom construction
Zamak bridge body with nylon saddles and brass posts produce a warm, rich tone with a softer attack
Adjustable with flathead screwdriver
About bridge & tailpiece measurements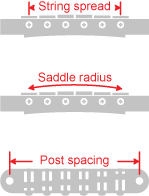 String spread is the distance between the centers of the outer strings on a bridge or tailpiece.
Saddle radius determines the arc formed by all the individual saddle heights, and is similar to the measurement of a fretboard.
Stud/post spacing is the distance between the centers of the mounting posts of a bridge or 'stop' tailpiece.
California Proposition 65 Warning
Cancer and Reproductive Harm