Locking Roller Bridge
Low-friction grooved saddles roll freely with a tremolo so your strings always return to pitch. Adjustable for precise intonation.
String
spread

Saddle
radius

Post
spacing

Post
threads
2"

14"

2-29/32"

M8 x 1.25
This unique post-mounted brass bridge has low-friction grooved roller saddles for smooth string return, plus advanced features for improved intonation stability. The holes for the bridge posts are elongated to allow overall intonation adjustment, and allen screws lock the bridge to the posts. The reversible roller saddles are individually adjustable for precise string intonation, and also lock to the bridge with allen screws. Allen wrench and thumbwheel mounting posts with bushings are included.
Use an
11mm drill bit
to install the bushings.
SAVE
when you buy a roller bridge paired with a Bigsby Vibrato Tailpiece:
With
Bigsby B50
:
Locking Roller Bridge with Bigsby B50 Vibrato
With
Bigsby B70
:
Locking Roller Bridge with Bigsby B70 Vibrato
About bridge & tailpiece measurements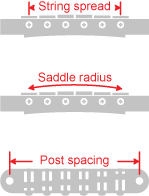 String spread is the distance between the centers of the outer strings on a bridge or tailpiece.
Saddle radius determines the arc formed by all the individual saddle heights, and is similar to the measurement of a fretboard.
Stud/post spacing is the distance between the centers of the mounting posts of a bridge or 'stop' tailpiece.
5276
0.2396 lbs. (0.11 kg)

5276-G
0.2396 lbs. (0.11 kg)
California Proposition 65 Warning
Cancer and Reproductive Harm