Gotoh Tune-o-matic Bridge with Studs/Bushings
A modern version of the Tune-o-matic bridge for solidbody guitar.
The metal saddles have helpful starter grooves to guide your slotting files. Intonation screws are retained by mini hex nuts. Includes threaded thumbwheel studs and bushings. Use an 11mm drill bit to install the bushings.
String spread 2-1/16"
(52.39mm)
Saddle radius 12"
(304.80mm)
Post spacing 2-29/32"
(73.82mm)
Post threads

M8 x 1.25
About bridge & tailpiece measurements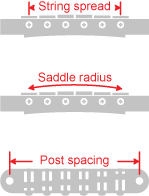 String spread is the distance between the centers of the outer strings on a bridge or tailpiece.
Saddle radius determines the arc formed by all the individual saddle heights, and is similar to the measurement of a fretboard.
Stud/post spacing is the distance between the centers of the mounting posts of a bridge or 'stop' tailpiece.
1511
0.2240 lbs. (0.10 kg)

1511-G
0.2110 lbs. (0.10 kg)

1511-N
0.2272 lbs. (0.10 kg)
California Proposition 65 Warning
Cancer and Reproductive Harm