Gibson Accessories Nashville Tune-o-matic Bridge
A modern take on the Gibson tune-o-matic
The Gibson Tune-o-matic bridge remains one of the most revered and copied pieces of guitar hardware ever developed, and the Nashville Tune-o-matic bridge offers unnotched saddles with individual saddle screw retainer clips, and a wider footing for increased intonation range. The stud and thumbwheel are also cast directly onto the bridge, allowing the Nashville Tune-o-matic to slide directly into place.
Dimensions:
String Spread: 2-1/32" (51.56mm)
Saddle Radius: 12" (304.80mm)
Post Spacing: 2-15/16" (74.61mm)
Post Threads: M5 x .8
Genuine Gibson part
Gibson Nashville Tune-o-matic Bridge features:
Unnotched saddles
Open-bottom construction
Includes posts and bushings
About bridge & tailpiece measurements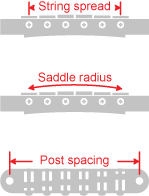 String spread is the distance between the centers of the outer strings on a bridge or tailpiece.
Saddle radius determines the arc formed by all the individual saddle heights, and is similar to the measurement of a fretboard.
Stud/post spacing is the distance between the centers of the mounting posts of a bridge or 'stop' tailpiece.
Tip: Slotting Tune-o-matic style saddles
Nut slotting files work great for metal saddles. Choose your file size as you would when slotting a nut: use the same gauge as the string, or a few thousandths larger. After filing to the desired depth, we suggest polishing the slot with Mitchell's Abrasive Cord to remove file marks and burrs.
California Proposition 65 Warning
Cancer and Reproductive Harm