Inventing the American Guitar Book
The Pre-Civil War Innovations of C.F. Martin and his Contemporaries
Beautiful photos, essays and deep detail on the roots of the American flattop guitar. We're honored that Martin came to StewMac to create guitar plans as source material for this book!
Edited by Robert Shaw and Peter Szego
The American flattop guitar emerged from its European roots during a remarkable 20-year period before the Civil War. C.F. Martin Sr. was the dominant guitarmaker of that period. This beautifully photographed book is the definitive study of his early instruments and design innovations.
Features essays and specifications by the leading experts on early American guitars: David Gansz, Richard Johnston, David LaPlante, Adrian Sheets, and James Westbrook.
Inventing The American Guitar is the first book to describe the early history of American guitar design in detail, and is the companion to a major 2014 exhibition of Martin guitars at the Metropolitan Museum of Art.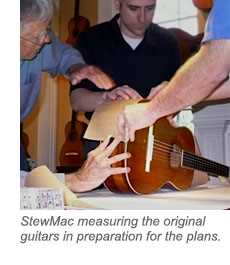 Contents in brief:
Johann Georg Stauffer and the Viennese Guitar
C.F. Martin's Homeland and the Vogtland Trade
C.F. Martin in New York, 1833-1839
The Spanish Guitar in the United States Before 1850
The Cadiz Guitar and Its Influence on C.F. Martin
C.F. Martin in Pennsylvania, 1839-1850: A Period of Transition
Madame de Goni and the Spanish-American Guitar
The Spanish Guitar As Adopted by James Ashborn
C.F. Martin in Pennsylvania, 1850-1867: Fine Tuning
Martin's Evolution to an American Guitar
Early Martin Guitar Design and Construction: What Survived
Timeline: 1833-Present
Reduced-scale measured drawings by StewMac's Don MacRostie
300 pages, hardcover.
Add to your library our full size builders' plans for two early C.F. Martin guitars, drawn by StewMac's Don MacRostie in cooperation with the editors. Careful measurements were taken directly from the original instruments in the Peter Szego collection. Valuable assistance for accurate construction details was provided by luthier David LaPlante and Martin's resident historian Dick Boak.
Austro-German Martin, c.1837: A transitional instrument that blends the earlier Viennese Stauffer design with C.F. Martin's own pioneering innovations. Includes specs for the distinctive neck joint and "clock key" heel mechanism. 36" x 52", supplied folded.
Spanish-style Martin, c.1842-1843: A step beyond the Austro-German design, and a foreshadowing of Martin guitars to come. 36" x 58", supplied folded.
California Proposition 65 Warning
Cancer and Reproductive Harm