"Which binding tools should I choose?"
Issue 71 October 02, 2008
There are so many gizmos to cut channels for binding and purfling. Customers ask which to use, and here's my advice...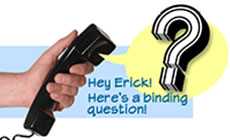 Customers ask: "Should I use a router or what?!"
So I ask these three questions:
"What instrument are you building?"
"Planning to build more, or just this one?"
"Do you have a Dremel or a router on hand?"
These answers will point to the right tools. Lots of folks are Dremel-powered, and for them we have two different options:
Got a Dremel? Here's a setup for small-body instruments
Our binding router guide on a Dremel tool is the perfect size for small instruments like a flat-topped mandolin.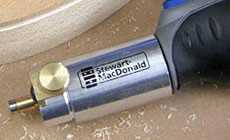 It's also a good setup for smaller carved top instruments like F5 and A5 mandolins. Our 5/16" binding router bit is the cutter to use.
Using a Dremel on larger instruments
Here's the Precision Router Base with the addition of the edge guide. This offers more surface area for bigger bodies like guitars and basses. It's a good setup for the small builder who doesn't produce many instruments. Again, choose the 5/16" binding bit.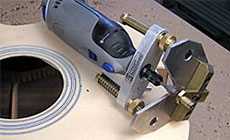 A tip for instruments with radiused tops/backs:
Since the surface the router's sitting on is angled, it will want to cut an angled channel (which you don't want). Fix this by putting a wedge of the appropriate angle under the router base. This keeps the cutter bit aligned with the sides. For the back of our guitar kits, the wedge is around 5 degrees.

For a closeup look at this angle problem, check out the video link for the TrueChannel jig below.
If you have a router or a laminate trimmer, the added power will give you cleaner cuts.
With these tools, I recommend our binding router bit set. Each bearing produces a specific channel size, with .012" added to compensate for swelling caused by gluing and the thickness of the glue itself.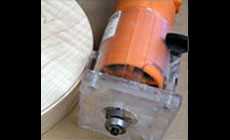 That's the setup I use in my own shop for binding solidbody electrics and acoustic flattops. These top quality bits and bearings can be used for high volume production work.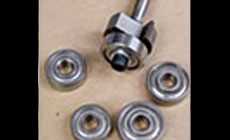 What's a laminate trimmer? It's a scaled-down router intended for edge details on countertops, etc.
---
Speaking of high production work...
For shops making all types of instruments, we have the TrueChannel binding jig. This tool, inspired by luthier Tom Ribbecke, works on a variety of different instrument types, including carved archtop models.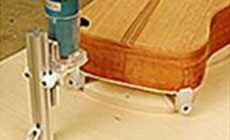 ---
The TrueChannel holds both the instrument and router in alignment. It doesn't matter if the guitar top is arched or angled — the router stays vertical and adapts as you move the body.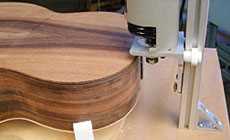 Here's a tip from repairman Flip Scipio:
Flip uses the TrueChannel for cleanly routing away old deteriorated bindings before installing vintage-style replacements.