Removing the frets on the Mike Bloomfield Tele
Issue 256 February 25, 2016
The Mike Bloomfield Tele is back in Dan's shop. It's in for a refret, and that means working very carefully on this historic guitar. As Dan pulls all the frets, does he manage to avoid chipping the old rosewood fingerboard?
About the guitar in this video: This is the 1963 Tele that Mike Bloomfield used to record iconic guitar solos with Bob Dylan and the Paul Butterfield Blues Band in 1965.
In this Trade Secrets video:
Working with the neck removed from the body
Deep wear on the frets and fretboard, almost like a scalloped neck
Steam heat from a soldering iron
A Chip Stopper keeps rosewood from pulling up
Video Transcription
[on-screen text reads: Stewart-MacDonald Trade Secrets!]
Avoid chips when pulling frets
Dan Erlewine: Today I'm going to show you how to take frets out of a guitar, especially a delicate one like this. You probably don't recognize this guitar, but you might recognize the neck. If you saw trade secrets last year [on-screen text reads: Trade Secrets #242] when this whole guitar was in, it was Mike Bloomfield's guitar that he played at the Newport Folk Festival in 1965 and recorded Bob Dylan's Highway 61 album. That was one of my favorite albums that I learned on.
Removing the neck and jigging it up
I took the neck off and put it on a pine body and jigged it up with my neck jig and got it where I wanted. I put the body in the case because I don't want to be scratching that during a fret job. I'm a little nervous because it's got lots of chips from a previous refret. I don't know if they used glue or not. Look at the waves in the fretboard. It's like a really heavy handed player with hard nails. Or did somebody try to do a mild scallop on this? Like Richie Blackmore.
These frets are worn low and pitted and the board's chipped up a lot. That happens because when the frets were put in this way, base to treble, and they really want to go out that way because they've broken the wood fibers in the walls of the fret slot, all go in that direction. Whoever refretted it took them out with nippers from above. Because if you pull them out this way, you get chips. So I don't think that's going to cause me a problem when I take out these frets because it's already been done before.
Removing the frets with fret pullers and a soldering iron
So let's take these out and see what we run into. The goal here is to pull the frets out of the fretboard, nice and clean, not get chips. Ideally you could use your Fret Pullers and just get underneath them and take them out. But it's not that easy because there's probably glue in these slots, the wood is swollen up around the frets and they may need some coaxing. If the fret starts to come out, but it's stubborn, I'll slide under there with a Chip Stopper and have something to nip against.
The soldering iron [on-screen text reads: Solomon SL-30 Soldering Station - stewmac.com] and a little damp wood steams the fret out. I'll learn a lot on the first fret. As I come across I'm protecting the fretboard with my pullers while I heat. That's my guide. That's pretty nice. You don't pay attention to the chip stopper. Just let it fall. That's sweet. I hold my breath. I really do. Boy, these are coming out nice [on-screen text reads: Hold-Heet Electric Glue Pot - stewmac.com]. Somebody asked me what tip do have to not burn the wood? And the tip is don't slip. That's why I'm using the jaws to protect the tip of this iron.
Okay, so now I'm getting the hang of it. One, two, three, four and the fifth fret. I'm experienced now. Question from the audience was why are you using this magnifying visor [on-screen text reads: OptiVISOR Headband Magnifier - stewmac.com]? Because I see better with it. And I have two lenses, a four by and a two by power. Leo Fender used one. You hardly ever see a picture of Leo Fender without them on, at least in the factory. I'm not in a hurry here. This was Mike Bloomfield's guitar. Maybe steamed that a little bit. See it bubble? You can smell the Brazilian rosewood. See there's a nice chip from a previous fret job right on the end of the fret. And I don't want chip at worse. And that'll take some woodworking to patch a piece of wood in there. Now I'm smelling glue.
I think that's super glue. I'll know more in a couple more but that's the first time I've smelled glue. I'm going to put a little water on the one ahead of it just to touch. It's not really doing anything because there's a lot of fret grime in there and human oils that sort of seal it. It's sticky. That's a tough one.
Perfect. Not a chip. Woo hoo. There they are. Mike Bloomfield's, old frets. I think I'll save some for posterity. Man, they came out easier than I thought they would. We didn't get a chip. I got one lifting piece of Rosewood at the end. It's a flake. I'm going to super glue that down. These came out without a hitch.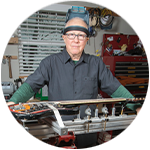 Dan Erlewine
Guitar Repairman and Builder