V-0670
Dan Erlewine uses this gauge for checking string height, measuring saddle and pickup heights and more.
Video Transcription
Dan Erlewine: Here's the String Action Gauge. It's a measuring tool for guitar setup work.
These lines measure in thousandths of an inch, they're graduated in every 10 thousandths, and it shows you the gap between the top of the fret and the bottom of the string. I generally check the action height at the 12th fret, like I'm doing here [Dan sets the string action gauge on the frets]. Because we rest on a number of frets, there's no teeter-tottering to get you out of square. I used to measure with a six inch ruler, like this. But if you tip out of square at all, it makes it hard to read.
I use it for adjusting pole piece height by pressing the string at the last fret and taking the measurement, either in fractions or in decimals. Here, I'm measuring the height of the thumb wheels. I'm about to remove the bridge and I want to know where I started so I can get back there in a hurry. It's also a three inch ruler, which it comes in handy for jobs like measuring the distance between these bridge studs.
The String Action Gauge.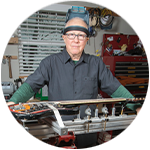 Dan Erlewine
Guitar Repairman and Builder