V-3728
Good. Simple. Solid. Support.
Video Transcription
[on-screen text reads: Dan Erlewine - Stewart-MacDonald]
Neck support for guitar repairs
Dan Erlewine: The idea for this Rock-n-Roller Neck Rest came from Pete Towers in the UK who sent it into Trade Secrets about 20 years ago. He called it the cantaloupe neck rest. All of us guys at StewMac made a couple for our benches and used it for years until we finally produced it and put it in the catalog. It's simply a great idea because of its rocking shape its self-leveling, it freezes when it contacts the back of the neck and supports the neck and guitar body as well. It's a real solid support. This is the three and three quarter inch size. It's for guitars like a 335, Les Paul or a PRS, your semi-hollow bodies and solid bodies. For them it's the perfect working height.
And this is the five-inch version for big body guitars like archtops and flattop acoustics. The cradle is lined with cork and it's not too deep, so it holds any neck shape with the fingerboard edges exposed, so you can dress frets or file and shape string nuts without bumping into the neck rest. For a job like installing tuners, I flip the guitar upside down and use a Cam Clamp and it holds it tight, almost like a Repair Vise. Like I said, it's simply a great idea like all the best tools are.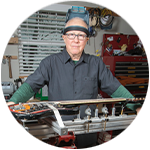 Dan Erlewine
Guitar Repairman and Builder