V-5260
Dan Erlewine demonstrates our Precision Router Base, for inlays and other routing on guitars and all stringed instruments.
Video Transcription
Dan Erlewine: We designed the Precision Router Base to fit the Dremel Tool and the Fordham Tool. We wanted a base that was lightweight, made from metal, not plastic, and would let us see the work easily and work great in a guitar shop.
It's height adjustable with accuracy. A full turn of the thumb well raises or lowers the router 35 thousandths. That means you can set your depth easily for routing inlays. The base turns a Dremel tool into my favorite saddle slot router, and it fits our Saddle Routing Jig.
For cleaning and deepening gunked up fret slots it can't be beat. The built-in nozzle accepts an air tube to blow away dust. I use the Dremel tool, the router base in this Sound Hole Jig to cut the purfling in this little guitar that I'm making for my granddaughter.
Sometimes I use it as a miniature shaper, or a miniature grinder and tool sharpener, you'll find lots more uses for the router base in your shop.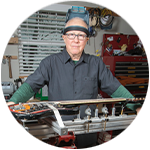 Dan Erlewine
Guitar Repairman and Builder