Micro finishing papers for instrument finishing
V-5557
Dan Erlewine on using Micro-Grit Finishing Papers as the last step before buffing an instrument finish. In this case, he's finishing up a spot repair on a poly-finished guitar body.
Video Transcription
[on-screen text reads: Dan Erlewine - Stewart-MacDonald]
Dan Erlewine: For a high gloss factory look, wet sand with Micro Finishing Paper before you buff. They leave much finer and fewer scratches because they're graded on the European P scale. P scale means that each grit is the same size and shape and uniform. There's no one rogue particle that leaves a scratch that the next grit won't take out. I'm using 2000 grit wet with a little soapy water to remove some fine scratches, and then I'll be ready to buff. The soapy water washes the particles out of the paper and makes it last longer. I'm ready to buff. If this had been lacquer, I could have quit sanding at 1200 grit because it's easier to get scratches out of lacquer than it is polyester. Micro Finishing Papers take the scratches out of finishing.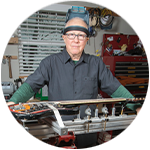 Dan Erlewine
Guitar Repairman and Builder