Machinist Squares for Super-accurate Guitar Work
V-4950
One of the most important tools in any guitar shop is a good square. This Set of Three Machinist Squares is perfect for guitar builders and repair techs. In 2", 4" and 6" sizes they are perfect for setting up tools and laying out projects. These are accurate to 0.0006" and built to last a lifetime.
Video Transcription
Dan Erlewine: This little square is 50 years old, and it's just as accurate as it was when I got it. They're still made just as accurate as ever.
StewMac Machinest Square Set
If you go into any shop where they really care about accuracy, you're going to find squares like this. Everybody needs them and uses them all the time to know that your tools are set up at a true right angle, your table saw, sander, joiner, or drill press, you name it.
For detailed work like guitar jobs, small squares are especially useful. You don't want a big clunky square to square up a chisel with or checking to see that a sawn or planed edge is square, for laying out projects, any project.
Our Machinist Squares have hardened steel blades that are precision ground to within six-ten thousandths of an inch. With tool steel handles, they'll stay accurate for a lifetime of use in your shop.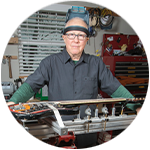 Dan Erlewine
Guitar Repairman and Builder