Fret press: arbor press for guitar fretting
V-4481
Dan Erlewine demos our Arbor Press, which is specially adapted for fretting stringed instruments.
Video Transcription
[on-screen text reads: Dan Erlewine - Stewart-MacDonald]
The Fret Arbor Press
Dan Erlewine: The first Fret Arbor Press I ever saw was at the Gibson factory in the mid 1960s. It was this giant, heavy industrial machine, but I wanted one. There was no way that would fit in my shop though. This press is the right size and it's perfect for production work and bigger little shops. It's great for fretting pre-slotted fretboards. I use it with our Fret Scale Template also. The index pin on the table lines up each fret.
Special features of the Fret Arbor Press
The neck support cradle comes with the press and we use that to fret bolt-on necks. Here's what's special about this fret press. The lever's on a return spring, that means that it holds the ram up out of your way as you line up the next fret. It has a table with a fence and adjustable index pin so that you can use template fretting. That table's adjustable in and out, from right to left, so you can line up the slot square to the fence.
It has a lock on the ram so you can put glue in the slot, press the fret down and lock that ram, and it acts as a fret clamp. The fret press comes with five different radius for pressing the frets in, and we have other radii available. If you would have told me back at Gibson that day that I'd have an arbor press like this, I would have thought you were crazy, but now I do.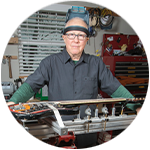 Dan Erlewine
Guitar Repairman and Builder