A brief introduction to Don MacRostie of Red Diamond mandolins.
A-DONMACROSTIE
How to Build a Carved-Top Mandolin
About the presenter: Don MacRostie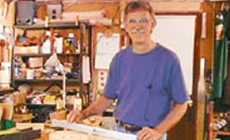 Don MacRostie is the creator of renowned Red Diamond mandolins, which he builds in his one-man shop near Athens, Ohio. A custom builder, Don's instruments are chosen by discriminating players for their tone, playability and beauty. Don has built over a hundred and twenty five instruments in this shop, and it's here that we filmed his entire building process.

Don's exacting standards and long experience serve him well at Stewart-MacDonald, where he personally designs and directs the production of our mandolin, banjo and guitar kits. In learning mandolin building from Don, you benefit from his twenty-plus years of practical experience.