Bad news: a stripped truss rod nut. Good news: an easy solution.
Issue 83 March 19, 2009
First, the bad news: This truss rod nut is stripped, so the rod won't adjust.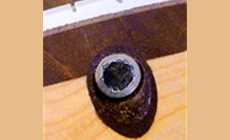 Now for the good news...
---
I'm checking out this Tele from a pawnshop to see if my buddy got a good deal on it. Hmmm... It's in good shape overall... Very little fret wear... Hardware and electronics are good...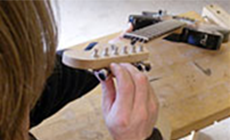 Uh-oh
The neck has a pretty serious backbow. And that's not the worst part: the truss rod needs loosening, but the adjusting nut is a mess. Somebody's been using the wrong size wrench on it, and its hex socket is stripped.

The flat sides of the hex socket are rounded over, so a correctly-sized wrench can't get a grip. It just spins in the hole.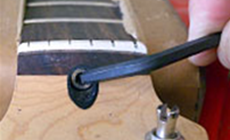 You've probably seen this lots of times before. This was a standard truss rod, but if it had been a rod with an adjusting nut that's permanently attached, the problem would have been particularly devastating.
Pop Quiz! How would you handle this?
Pound a screwdriver into the nut, and hope it jams tight enough that you can back the nut out?

No thanks — and remind me not to have you work on my guitar!

Pull off the fretboard and replace the rod?

Yikes! That's major surgery! (You get extra credit for being such a hard worker, though.)
The solution:
I use the Gripper truss rod wrench. We introduced this wrench last year, and it's a hit. Now we offer a full set of them. The Gripper has a tip that's small enough to fit inside the messed-up nut, then it tapers out wider to grip even a rounded-out hex socket. It grips, so you can turn the nut like normal.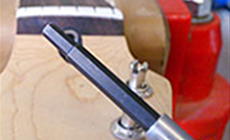 It saves a lot of time that would have been spent on expensive repairs.
---
Check It Out!
The String Action Gauge is your pocket "Swiss Army Ruler" for setting up every stringed instrument. Check out Dan Erlewine's video demo!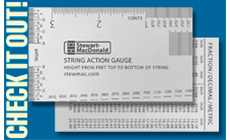 ---
The adjusting nut on this truss rod is a removable one that screws onto the rod. Now that I can get a grip on it, I can back the nut out to replace it. No problem.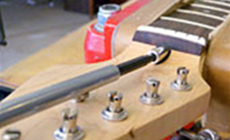 Some short blasts of canned air remove any debris that's in the access cavity. A small brush gets rid of any crud on the threads.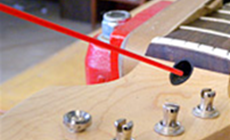 The new nut gets a dab of petroleum jelly. This makes it smoother-working.The new nut goes on easily, with the proper 4mm wrench.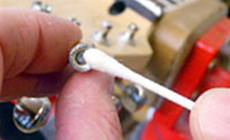 After a quick tweak, the neck is adjusted perfectly straight. This guitar is ready to go, without pricey repairs.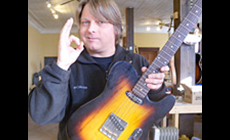 If this truss rod had a welded-on, non-replaceable nut, I could adjust it with the Gripper even though I can't remove it. In that case, the guitar's owner just needs to keep a Gripper wrench in the guitar's case and he'll be all set.