Simple guitar wiring: DIY mods to expand your guitar's tone
Issue 112 April 29, 2010
Simple guitar wiring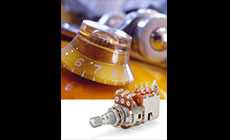 Add a switch for more tonal variety: with a push-pull pot, there are no holes to drill and you can't even see it!
---
Want to expand your guitar's tonal range? You can do it without drilling or routing your guitar, and you don't need a shop full of tools. You just need a push-pull pot.
Simple DIY switching mods
A push-pull pot is a standard control pot with an on/on mini switch added to it. The control knob looks and works the same as ever, but push/pulling it operates the switch. You get lots of new wiring possibilities by adding the switch, but you don't have to drill a hole or rout new space in the wiring cavity. Handy!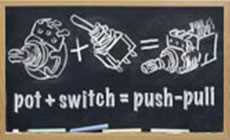 Jimmy Page wiring modification
Here's a popular wiring tweak that was adopted by Jimmy Page. In a standard Les Paul circuit, replace one of the tone pots with a push/pull pot wired to create a coil tap in the bridge pickup.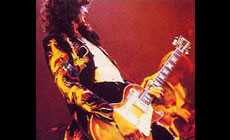 A coil tap lets you access just one of a humbucker's two coils. This setup kicks in the single-coil sound any time you pull the knob on the push-pull pot, giving you more tonal flexibility than a standard Les Paul. Time to get the Led out!
Look how simple this Jimmy Page mod is!
The blue lines are original Les Paul wiring; the red is the only part that changes to create this switchable coil tap. The push-pull pot has replaced the standard tone pot.

You'll find a printable version in our Free Info at stewmac.com. It's in the instructions for our Jimmy Page wiring kit.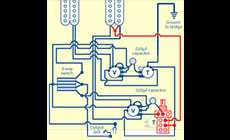 Here's a good one:

One push-pull pot for both volume and tone In the normal position this is a volume pot. Pull it up, and it's a tone control. Good for when space is tight, it also adds flexibility: each pickup can have its own dedicated volume/tone control.
---
Check It Out!
It's easy to make your own pickups!
We've got the parts you need for humbuckers and single-coils: bobbins, wire, magnets, pole slugs, covers... and a pickup winder for customizing your hot-wound or thin-wound sound. The easy way to get your feet wet: start with our pickup kits.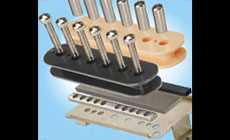 ---
Give your Strat more pickup options:
For years, a popular Strat mod is the option of using the neck/bridge pickup combination. This setup does that and more: you can also use all three pickups at once! The more the merrier, right?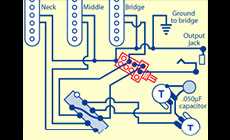 But wait, there's more!
Actually, lots more. I've got too many favorite wiring ideas to jam into this one issue, even if we just limit it to push-pull pot ideas. If you'd like to see more about wiring in upcoming Trade Secrets, let us know and we'll be happy to oblige!