A curious fact: why the 1970s Musicmaster Bass had such a thin sound
Issue 172 August 30, 2012
1970s Musicmaster Bass
A curious fact about this blast from the past
---
This 1973 Fender Musicmaster® bass has been knocked around for almost 40 years. It looks good in this photo, but up close you can see that it's been through a lot. Lots of parts replacements, a few different refin jobs (once it was actually given a stucco finish!), and who-knows-what. It's kind of a beater, but it's held up great. Just as Fender advertised in 1970, this "lowest price bass offers ruggedness and high performance." No doubt!

Fender paired it with a 12 watt amp, as seen in these photos and text from their 1970 catalog:
---
Musicmaster Bass Set

A low priced combo feauturing an easy to play "Fender Bass" and a rugged "Fender Bass Amp." Easy playing 30" scale adjustable neck. Power output: 12 watts, RMS, 26 watts peak music power.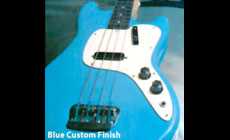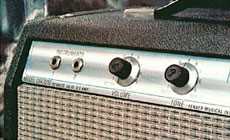 ---
The 30" scale was handy for guitarists who occasionally covered on bass. But the Musicmaster Bass didn't set the world on fire with its thin sound. That's why this one's in my shop: the owner says it's "too bright and twangy." There's a curious reason for that: Musicmaster basses were built with guitar pickups! Nobody noticed, because the six polepieces are hidden. It's the same pickup used in Musicmaster, Duo-sonic and Mustang guitars.

Here you can see for yourself with the cover removed. It has six Alnico 5 magnets installed flush to the top and bottom of the flatwork.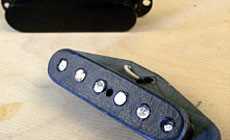 The magnets are about .650" tall. The pickup shows a DC resistance of 5.6K on my multimeter.

Most likely, this was wound with 42 AWG wire instead of thinner 43 AWG coil wire. Using the thicker wire would mean fewer winds could fit on the coil. No wonder it sounds so twangy!

The owner doesn't want to rerout the body for a larger pickup, so whatever I do has to fit in the existing cavity. I decided to wind a new pickup with less treble and stronger output. Here's how I figure it:
Original Pickup: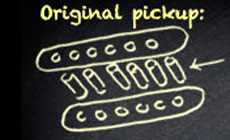 Alnico 5 magnets (brighter tone)
.650" tall (shorter, fewer wraps)
42 AWG wire (fatter, fewer wraps)
Trebly sound, Low output
My rewind plan:
Alnico 2 magnets (warmer tone)
.710" tall (more room for wraps)
43 AWG wire (finer, more wraps)
Warmer tone, higher output
I built the new pickup on our Strat flatwork that I cut to match the original. This way I know the rewound pickup will fit right back in, without any modification to the body cavity. Instead of the .650" tall Alnico 5 magnets, I used .710" tall Alnico 2 magnets. This is for a nice round bass tone with less highs and a bit more output. The taller magnets make room for winding more wraps around the coil, and that means more output.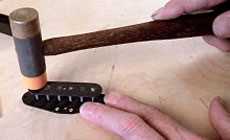 Alnico 2 contributes a softer, mellower sound than Alnico 5. 43 AWG wire (used on Tele neck pickups) is smaller diameter than 42 AWG. That means more winds will fit on the coils, especially since I'm using the taller magnets.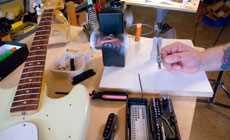 After winding, I potted the pickup with a quick dunk in a jar of wax warmed in my water-filled glue pot. Then I reinstalled it in the guard and put the bass back together.

These before and after shots show how much taller the new coil is.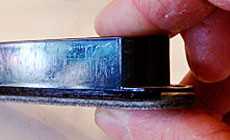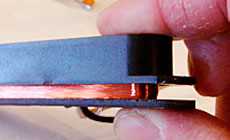 The new pickup reads a strong 9.5K, nearly twice the resistance it had before. Greater DC resistance means reduced highs — adding up to a warmer pickup. The rewind plan seems to have worked, but for a second opinion let me check with someone who knows:

Our resident amp expert and bass player Jon Fluharty confirmed that the bass now had a nice round low end that wasn't too twangy or bright. The added output helped drive the amp better too. Success!