3-way Lever-action Switch
Installation and wiring instructions for the 3-way Lever-action Switch.
I-3191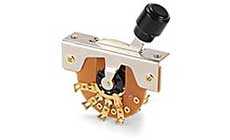 This traditional spring-action lever switch is commonly used for Telecaster® style guitars. This switch has 1-5/8" mounting screw spacing, and needs at least 1-3/8" depth in the body cavity. A 1/16" x 1-1/16" slot in the pickguard/control plate is required for the lever.
About our kits
Stewart-MacDonald wiring kits contain black and white non-shielded wire, plus shielded coaxial cable. Extra black wire is included for running a string ground to the bridge.
Notes on wiring
Reduce unwanted electrical noise by using shielded coaxial cable for your longer wiring runs (for example, the connection between the controls and the output jack). Coaxial cable contains a center "hot" conductor which is shielded by an outer braid used for the ground wire.

For short connections between components, use standard non-shielded wire. Typically, white wire is used for hot and black for ground.
#0138 Wiring Kit for Tele
The spring on the switch can be on either side (there's no difference, electronically). String ground on a Tele is usually made by the metal baseplate of the bridge pickup contacting the metal bridge. If your pickup doesn't have a metal baseplate, run a string ground wire from the back of the volume pot to the underside of the bridge (shown by dotted line).
#1801 Wiring Kit with 3-way Lever Switch
This wiring diagram is suitable for any two-pickup guitar with humbuckers, single-coils or a combination of both.
#1801 wiring option
For guitars with humbuckers that have a coil-tap or series-link, this wiring makes the middle position a combination of neck and bridge single-coil outputs in parallel.