Martin Guitar Bridge Shaping Gauge
Build a shaping gauge to fit the contours of a Martin Bridge.
A-BRIDGESHAPINGGAUGE
Make-it-yourself tool for matching Martin bridge shapes
In Trade Secret #187, Dan Erlewine shows how to make No-cost tools for shaping Martin guitar bridges. Use this drawing to make your own copy of Dan's bridge shaping gauge!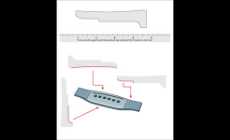 When printing from your computer, specify Actual Size. Do not resize or "scale to fit." Compare your ruler to the 6" scale printed below to know your printout is the correct size.
---