Neck Jig Bracket for Angle Vise: Installation Instructions
Adapt your Angle Vise to securely mount the Neck Jig
I-5380
1. Loosen and remove the front jaw of the angle vise using a 4mm Allen wrench or Phillips-head screwdriver.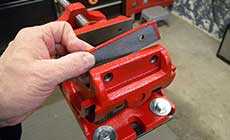 2. Drill out the mounting holes to 11/32".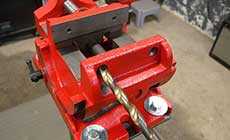 3. Examine the casting to make sure the bracket can sit flush along the front jaw of the vise. You may need to use a mill file to take down the rough edges until the bracket fits.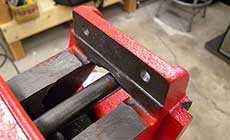 4. Place the bracket in the jaws of the vise so the holes line up. Install the bolts through the front of the vise, and through the bracket. Thread the nuts on just a few turns.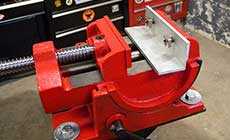 5. Slide the Neck Jig into position.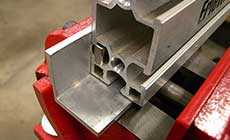 6. Tighten down the bolts using a 6mm Allen wrench. Tighten the vise jaws.