Issue 222 July 31, 2014
Dan Erlewine's homemade dust collection system: Dan used to go outdoors to trim binding, because without dust collection the job got really messy. That's all changed now: Dan's homemade dust collection system is a simple plastic storage bucket turned into a downdraft routing table!
In this Trade Secrets video:
Gluing up laminated bindings for a V-shaped body
Resizing the bindings to fit the peghead
No-mess way to handle binding trimmings
Rubbermaid® storage bucket: simple and inexpensive
Video Transcription
[on-screen text reads: Trade Secrets! Stewart-MacDonald]
Dan Erlewine: I'm getting ready to shape the peghead on this guitar and make it and bind it. I've laminated up this binding, let it dry for two days to get the solvents out and it's cured and ready to route. I'm going to trim this down on the MacRostie Binding Trimmer. And what I'm going to show you is a nice way to keep the mess down. And by mess I mean the binding shavings. That's what happens when you go over the router and it's all over your floor and I hate it. And I used to do this outside just to stay away from that. Check this out.
Here you have a shop made dust collector downdraft table from a rubber made storage bin. I drilled a hole in the side for the large hose on my vacuum cleaner. And on top of that goes down MacRostie's Binding Trimmer. I was looking at this bin the other day thinking about routing and binding and making a mess. And I thought, I wonder if that board would fit right on the top of that. And it did. So I took a file and made a groove for the cord, plugged my holes in the side. It worked perfect and you're not going to believe what this does. First I'm going to run a piece of plastic through this without the vacuum on and you'll know what I'm talking about when I say a mess.
And that's just a little bit just getting started. This time the vacuum will be on. Man with this rig I could run binding for hours and it's not going to mess up my shop. And it changes my outlook on doing a binding job. Yep, and all the shavings are right down in there. Check this out. Look at this. That's a vacuum downdraft table.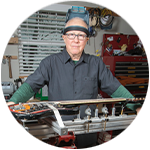 Dan Erlewine
Guitar Repairman and Builder