Making a Les Paul clone look more vintage
Issue 48 November 15, 2007
It plays like a Les Paul. Now it's gotta look the part!
This clone has the right parts and a great setup. Let's give it a classic look.
---
This guitar's been in the shop (and in Trade Secrets) before. It's a budget-priced version of a Les Paul that we've upgraded with new pickups, electronics, and bridge. We filled gaps under the frets with superglue and gave it a new bone nut. At this point, it plays and sounds great!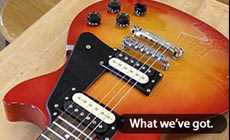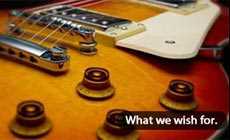 But...
The owner wishes it looked more like the vintage 'bursts his heroes play: guys like Jimmy Page, Billy Gibbons, and Joe Walsh. Their vintage Les Pauls not only have the sound, they look darn cool to boot!
So we'll tweak the cosmetics. Swapping a few parts will help a lot...
The black plastic appointments don't fit the image, so let's start there. Replacing components like this jack plate is as easy as turning a screwdriver.
A toggle switch wrench makes quick work of replacing the toggle switch plate.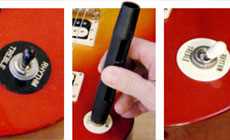 A cream switch knob and pickguard are easy. Same with the amber bell knobs.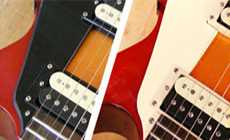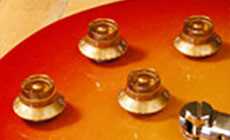 Fitting the mounting rings
The pickup rings are a little trickier. They need to be fitted to the curve of the top.
First, determine the radius of the top's curve, then scribe it onto the plastic mounting ring.
A set of fret pullers makes a clean cut, following the scribed line.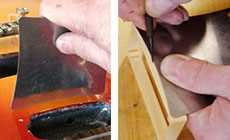 The next step gives a clean edge that exactly matches the mounting ring to the curved top.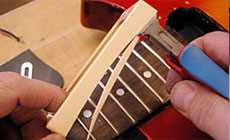 Put a piece of 120 grit sandpaper, face up, over the pickup location. Slide the plastic ring back and forth, and soon it matches the contour of the top. A perfect custom fit!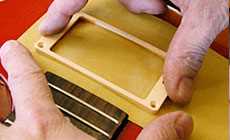 The guitar's looking great!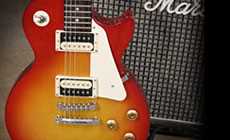 Here it's lounging with its new pal: a model 1987 Marshall 50-watt. Simply changing from black plastic to cream parts has made a big difference, but we didn't stop there...
We wired the guitar following our JPLP wiring kit diagram, which duplicates the circuit found in Jimmy Page's #1 Les Paul. This required a 500K push/pull pot to tap the bridge humbucker for single coil operation. This wiring also puts the neck and bridge out of phase when combined in the middle position (a sound favored by another famous 'burst player, Peter Green).
OOPS!! I forgot one little detail! The original Gibsons had these cool little knob position pointers. Got to have those!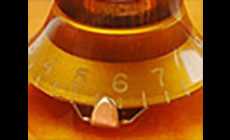 One more thing: tuners
The guitar's tuners worked just fine, but we're going for a vintage look. So we swapped for Gotohs with keystone style knobs similar to the vintage Klusons on the original Les Pauls. This was an easy installation using our conversion bushings.