Why Golden Age Restoration Tuners are Perfect for this Old Mandolin
V-2505
Period-correct spacing and the proper look! Dan Erlewine explains why our Restoration Tuners were the perfect choice for this old Regal mandolin.
Video Transcription
[mandolin music playing]
[on-screen text reads: Stewart-MacDonald - Golden Age Restoration Tuners]
Dan Erlewine: There are thousands of old mandolins like this out there with worn-out tuners that just don't work anymore. These are so worn out they won't even turn anymore. And the customers bring them in all the time for replacements, but the trouble is the modern post hole spacing is different. It's a little more narrow, and they won't go in. You see, from 1910 to 1925, the space between mandolin string posts was 931 thousandths. That's a little wider than the spacing that came later and became the modern standard. That was true of all the mandolins made in that era, including this old Regal. We used to have to plug those tuner holes and drill new ones. That was a lot of work, and once they were installed, the new tuners looked out of place on the old mandolins anyhow. And that's why we came up with the Golden Age Tuners because they're a perfect fit for the old post holes.
They're also made like the old tuners with steel base plates and vintage-style square riveted worm supports. The worm gear is under the post rather than on top, which is the way it was done on those early mandolins. So they look right on a vintage mandolin, and if you make a modern replica, they're more authentic. The diamond tread pattern in the base plates is a really cool touch. They come with 1920-style mounting screws and press-fit peghead bushings. I won't be using the bushings on this job because this is a student-grade mandolin that never had them. I'll tell you one thing. These tuners are going to work way better than the originals ever did.
[on-screen text reads: Stewart-MacDonald guitar tools, parts, and supplies. Stewmac.com.]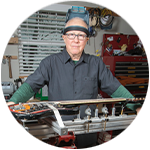 Dan Erlewine
Guitar Repairman and Builder