Waverly Guitar Tuners with Vintage Oval Knobs for Slotted Pegheads
Waverly tuners offer modern precision with vintage style. Rare authentic 1930s knob shape, for slot-head guitars. Set of 3L/3R with mounting screws.
"They hold their tune and look superb...of course I recommend Waverly."
—Dick Boak, Martin Guitars

With Waverly tuners, your slot-head guitar plays in tune and stays in tune. Their unique patented design, precise 16:1 gear ratio, long-life stainless steel/bronze construction, and smooth, reliable operation have made them the favorite of renowned guitarmakers and musicians for their finest instruments.

Martin, Gibson, Collings, Santa Cruz, Huss & Dalton, Sams, Bourgeois and other guitarmakers specify Waverly tuners for their top-line instruments.

Why do the pros choose Waverly tuners?

Smoother, more efficient tuning.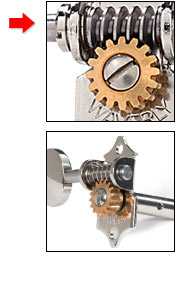 Waverly's renowned gear mechanism is second to none. Waverly tuners feature a proven, precisely machined design ensuring accurate, efficient gear alignment. Nylon worm gear bushings enhance the smooth feel. The result: looseness is eliminated—your guitar plays in tune and stays in tune.

Longer life with less wear.
Waverly's stainless steel worm gear and machined bronze alloy string post gear are more durable than the brass gears used in other tuners.

Vintage details.
Authentic 1930s style "Vintage Oval" knobs are solid brass, not die-cast, with the historically-correct shape not found on other modern tuners.

The sturdy steel baseplates have the authentic 1930s footprint. String shafts are vintage-style straight single-hole 1/4"-diameter brass, for 3-left/3-right slotted pegheads. Slot-head mounting screws complete the authentic look.
Waverly Tuning Machines: The Choice of Renowned Guitarmakers
Altman
Bear Creek
Beard
Bedell Guitars
Borges
Bourgeois
Breedlove
Buscarino
Collings
Franks
Froggy Bottom
Galloup
Gibson
Goodall
Hooper
Huss & Dalton
Kallenbach
Knaggs
Ko'olau
Kopp
Larrivée
Lewis
Lucas
Maingard
Martin
Merrill
National
Paul Reed Smith
Proulx
Rockbridge
RoZaWood
Sams
Santa Cruz
Schaefer
Schoenberg
Sexauer
Skipper
Steinegger
Tippin
Webber
"They hold their tune and look superb…of course I recommend Waverly." —Dick Boak, Martin Guitars
"Our favorite tuners." —Collings Guitars
"The best tuning keys on the market." —Tony Rice
"Anyone using a lesser tuner is making their life more difficult." —Jorma Kaukonen
"Fast and precise retuning on stage or in the studio is no longer a problem, and finally the tuning machines look as good as the instrument. What did we do before Waverlys?" —Steve James, Austin TX
"Fast tuning on stage or in the recording studio…smooth action and good weight." —Herb Pedersen
"They work as beautifully as they look. The very best!" —Jim Merrill, Merrill Guitars
"Simply the best tuners available for acoustic guitars—I wouldn't use anything else." —Dakota Dave Hull
"Like putting a Rolex on your guitar!" —M.J. Franks Guitars
1130
0.3516 lbs. (0.16 kg)

4079
0.600 lbs. (0.27 kg)

1130-G
0.610 lbs. (0.27 kg)
Waverly® is a registered trademark of Stewart-MacDonald Manufacturing Company, Inc.
California Proposition 65 Warning
Cancer and Reproductive Harm