Tune-o-matic Bridge For Archtop Guitar
Tune-o-matic mounted on top of a tonewood base. The ideal upgrade for more accurate intonation on archtop and semi-hollow electrics.
String spread 2-1/32"
(51.59mm)
Saddle radius 14"
(356mm)
Post spacing 2-29/32"
(73.82mm)
Post threads

M4 x 0.7
The height is thumbwheel-adjustable from approximately 7/8" to 1-1/4" (22.23mm to 31.75mm). Saddles are pre-slotted and adjustable to set accurate string intonation.
About bridge & tailpiece measurements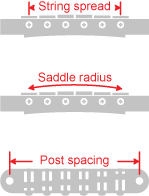 String spread is the distance between the centers of the outer strings on a bridge or tailpiece.
Saddle radius determines the arc formed by all the individual saddle heights, and is similar to the measurement of a fretboard.
Stud/post spacing is the distance between the centers of the mounting posts of a bridge or 'stop' tailpiece.
3959-G
0.150 lbs. (0.07 kg)

3961-G
0.160 lbs. (0.07 kg)
California Proposition 65 Warning
Cancer and Reproductive Harm