GuitarSlinger Cryocated Aged Aluminum Wraparound Bridge
We love a guitar that's been played hard and maybe has a few scars, it's been making music for decades. With adventures comes injury and loss—and a shiny new replacement part is going to ruin the mojo.
GuitarSlinger has expertly recreated those hard to find parts to vintage specs to restore your treasured road dog. Each hand-aged piece has the grit, grime, and vibe to be right at home on your well-loved guitar.
Cryogenically-treated hardware
Going one step further, each piece is cryogenically frozen or "cryrocated", exposing the hardware to extremely low temperatures (-292°F/-180°C) which shortens the relicing process and stabilizes the metal. GuitarSlinger states that the treated hardware has richer harmonics and higher conductivity.
Wraparound lightweight aluminum bridge/tailpiece and steel stud set
Rear intonation screws
Cryocated metal and aging stabilization treatment
Handmade—each is unique
Vintage correct construction
One of the simplest and most effective bridge and tailpiece designs ever, the wraparound bridge continues to sound amazing after 70+ years. Combining lightweight aluminum for the bridge/tailpiece and steel for the studs, GuitarSlinger has captured what many consider the best version of this hardware. Used on countless Gibson® Les Paul®, Junior, Special, TV and other models for decades.
Dimensions
String spread: 2-1/32": (51.56mm)
Saddle radius: 12" (304.80mm)
Post spacing: 3-1/4" (82.55mm)
Post threads 5/16-24
Bushings not included.
Tip: Use an 11mm drill bit to install bushings for this bridge.
About bridge & tailpiece measurements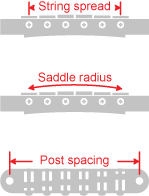 String spread is the distance between the centers of the outer strings on a bridge or tailpiece.
Saddle radius determines the arc formed by all the individual saddle heights, and is similar to the measurement of a fretboard.
Stud/post spacing is the distance between the centers of the mounting posts of a bridge or 'stop' tailpiece.
102090

0.

152

lbs. (0.06 kg)

102091

0.157 lbs. (0.07 kg)
Les Paul® is a registered trademark of Gibson Guitar Corporation.
California Proposition 65 Warning
Cancer and Reproductive Harm