Gotoh 510 Bridge and Tailpiece
Modern design locking bridge and tailpiece! A unique Tune-o-matic style bridge and matching "stop" tailpiece combo for solidbody guitar.
Lightweight bridge for distinctive tone. Both mount on Allen height-adjustable studs in threaded bushings.
Sold individually or
SAVE
when you buy the bridge and tailpiece set.
The Gotoh 510 Tune-o-matic Bridge
is designed for absolute stability. Allen screws lock the individually adjustable saddles, height adjustment studs (this bridge uses no thumbscrews) and the overall bridge intonation angle. The result is better sustain, rock-solid intonation and improved string energy transfer. The saddles have helpful starter grooves to guide your notching files. Made of zinc.
String spread 2-1/16"
(52.58mm)
Saddle radius 12"
(304.80mm)
Post spacing 2-29/32"
(73.91mm)
Post threads

M8 x 1.25
The Gotoh 510 "Stop" Tailpiece
pivots on unique ball-end threaded locking studs, for straight string pull. Spring retainer clips prevent the tailpiece from falling off when the strings are removed, to save your guitar's finish from accidental dings. Made of lightweight aluminum for distinctive tone.
String spread 2-1/16"
(52.58mm)
Post spacing 3-1/4"
(81.79mm)
Post threads

M8 x 1.25
Use an
11mm drill bit
to install the bushings.
About bridge & tailpiece measurements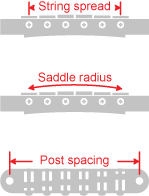 String spread is the distance between the centers of the outer strings on a bridge or tailpiece.
Saddle radius determines the arc formed by all the individual saddle heights, and is similar to the measurement of a fretboard.
Stud/post spacing is the distance between the centers of the mounting posts of a bridge or 'stop' tailpiece.
Tip: Slotting Tune-o-matic style saddles
Nut slotting files work great for metal saddles. Choose your file size as you would when slotting a nut: use the same gauge as the string, or a few thousandths larger. After filing to the desired depth, we suggest polishing the slot with Mitchell's Abrasive Cord to remove file marks and burrs.
5738
0.2000 lbs. (0.09 kg)

5738-G
0.2500 lbs. (0.11 kg)

5739
0.2500 lbs. (0.11 kg)

5739-G
0.2500 lbs. (0.11 kg)
California Proposition 65 Warning
Cancer and Reproductive Harm