Golden Age Low-profile Wraparound Bridge with Standard Studs
A sleek, low profile wraparound bridge for any neck angle
We designed this ultra-low profile adjustable wraparound bridge for lower action and a super comfortable feel. With SAE threads it drops right into many USA-made guitars.
Wraparound bridges are full of sustain and sound great, but they're not all created equal. Without adjustable saddles, you'll struggle to get the guitar perfectly intonated. And on many set neck guitars, you can't get most wraparound bridges low enough for a comfortable action.
Redesigned for better playability
To get lower action, we made this bridge very low profile. It fits perfectly with the shallow neck angles on Les Paul Juniors and Specials, and other set neck guitars like PRS. You'll no longer have to bottom out the bridge and still struggle with high action.
Next we polished all of the edges and saddles, making the bridge incredibly smooth and comfortable under your palm. The saddles have a wide intonation range so you can finally play in tune up and down the neck.
You have the option of notched or unnotched saddles. Cut your own string slots for a custom spacing or play instantly with pre-notched saddles. High quality studs and bushings are included. We took extra care to make sure the bushings fit tight to minimize "lean". The studs feature SAE 5/16-24 threads, used on countless Gibsons and other USA-made guitars. Also available with metric studs.
Lower your action and play in tune:
Low profile for low action
Works with guitars with shallow neck angles
Available with notched or unnotched saddles
Wide intonation range to play in tune
String spread 2-1/16"
(52.50mm)
Saddle radius 12"
(305mm)
Post spacing 3-1/4"
(81.80mm)
Post threads

5/16-24
Includes:

Height adjustable studs
High quality knurled bushings
Intonation screws
Allen wrench
---
About bridge & tailpiece measurements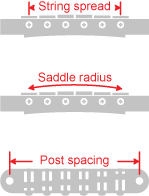 String spread is the distance between the centers of the outer strings on a bridge or tailpiece.
Saddle radius determines the arc formed by all the individual saddle heights, and is similar to the measurement of a fretboard.
Stud/post spacing is the distance between the centers of the mounting posts of a bridge or 'stop' tailpiece.
California Proposition 65 Warning
Cancer and Reproductive Harm