StewMac Truss Rod Rescue Tools
Individual Truss Rod Rescue Tools
Our Truss Rod Rescue Tools clean up damaged threads, create new threads, and even rescue truss rods that have broken off completely. See our Truss Rod Rescue Tool Sets. Use these individual components to add more capability to your Rescue Tools Set, or as standalone solutions for truss rod problems.
---
Relief Cutter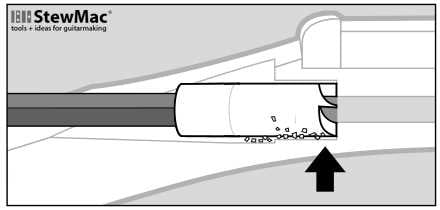 The Relief Cutter removes wood around a damaged truss rod, exposing unused threads or unused rod to be threaded by our Thread Cutting Die. This cylindrical cutter's tiny diameter (3/8") removes the smallest amount of wood necessary to clear the truss rod, so the neck stays strong. Fits our #6190 T-handle wrench, sold separately.
#6194 For 8-32 thread rods commonly used on Fender
#6195 For 10-32 and 10-24 thread rods used on Fender
#6188 For 10-32 rods used on Gibson
---
Thread Cutting Die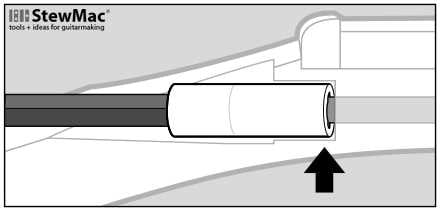 Our custom thread cutter is has an exceptionally small diameter (3/8") to fit the tiny pocket created by our Relief Cutter. Hardened cutting edges chase existing threads to clean them up, and cut new threads to extend the adjustment range on a rescued truss rod. Fits our #6190 T-handle wrench, sold separately.
#6191 8-32 thread for vintage Fender (approximately '61-mid '64)
#6192 10-32 thread for Gibson (all years) and vintage Fender (approximately mid '64 through the 70s, and US-made vintage reissues)
#6193 10-24 thread cutting die for vintage Fender (approximately '54-'59)
---
T-handle Wrench

This strong hex handle drives our Relief Cutter and Thread Cutting Die as you work these tools by hand. The dipped coating makes it comfortable to hold.
#6190 T-handle hex wrench
---
Pilot bit for Fender Bullet

On a Fender Bullet neck, the truss rod access hole is slightly smaller than our 3/8" Relief Cutter. Place this pilot bit in the Relief Cutter to center it during the first several turns. Once the 3/8" channel is established, remove the pilot and continue without it.
#6204 Pilot bit for Fender Bullet
---
Truss Rod Spacers

These polished metal spacers fit the cavity created by the Relief Cutter. With three different thicknesses, they give you control of how deep the adjusting nut sits on the truss rod.
#6200 Set of 4 thin spacers for vintage Fender heel-adjust necks (0.040" x 0.365")
#6201 Set of 4 medium spacers (0.100" x 0.365")
#6202 Set of 4 thick spacers (0.200" x 0.365")
#6187 Set of 4 spacers for Gibson (0.200" x 0.437")
---
Truss rod extension nuts for Fender

On Fender heel-adjust truss rods, it's important that the adjusting nut is not recessed below the end of the neck. After removing wood to rescue the truss rod, use these 1-1/4" long nuts to keep the adjusting slots accessible.
#6197 8-32 thread
#6198 10-32 thread
#6199 10-24 thread
Strat®, Tele®, P Bass®, Jazz Bass®, and Broadcaster® are registered trademarks of Fender Musical Instruments Corporation.
Les Paul®, SG®, Dobro®, and J-45® are registered trademarks of Gibson Guitar Corporation.
California Proposition 65 Warning
Cancer and Reproductive Harm
Truss Rod Rescue Tool Sets