1933 Pre-war OM-28 Acoustic Guitar Kit - 163
Build the iconic guitar that changed the world: the 1933 OM-28
Few guitars can say they truly changed how the instrument was built and played, but the OM forever influenced nearly every acoustic guitar that came after it.
There are few guitars as prized as a pre-war herringbone OM. Designed from the input of banjo player Perry Bechtel, this redesigned model revolutionized guitar building forever. The new 14-fret neck made it easier to play the higher notes, and when combined with the smooth belly bridge and the forward-shifted bracing, this instrument quickly became the most player-friendly guitar of the period.
For many, just seeing a pre-war herringbone OM is a treat—owning one seems like an impossible dream. The originals rarely survive in playable condition, and those that do are exceedingly rare, and extremely expensive.
What makes these guitars so amazing? The tone and visual style have arguably never been equaled. The blend of dense Brazilian Rosewood, old growth Adirondack Red Spruce and forward-shifted bracing made the OM the first modern steel-string acoustic guitar. Perfect for every style from bluegrass to blues to folk, there is little an OM can't do.
Build your icon
Now you can finally experience this incredible guitar by building one yourself. We reproduced this remarkable instrument down to the smallest detail to bring you the world's best and most faithful authentic pre-war kit, we call it the StewMac Icon. It's all there—everything but 80 years worth of dings and scratches.
No detail was too small
Not only does this Icon Kit capture the correct period LOOK of the original, but it also faithfully reproduces the "bones" of the instrument—it's just as authentic on the inside as it is on the outside.
We went the extra mile on these kits: we spent months examining every inch of the back, sides, top, braces, and appointments directly in hand from a museum-grade example. We studied how the forward-shifted bracing and unique shape fundamentally focused and directed the sound, and reproduced the exact location of every brace for you with a full scale bracing plan.
But it wasn't enough to only get the "big picture" right, we also meticulously reproduced all the little things as well: we matched the ivoroid celluloid binding as closely as we possibly could, we included real abalone inlays—just like the original. We even included the cheesecloth that caps the X-brace and the fabric ribbon used back in the day as side reinforcements.
We worked extremely hard to make sure the guitar you build will look and sound just like it did in 1933.
Our finest hand-selected woods
Let's face it, the woods are the foundation of these great guitars, and we knew we had to keep them as faithful to the original as possible. Brazilian Rosewood, which was used on the back and sides of the originals, is no longer commercially available, so we hand-selected the highest grade 5A Madagascar Rosewood (Dalbergia baronii) on the market. This species of Rosewood looks (and sounds) just like the real thing. We then paired it with the lightest and stiffest Adirondack Red Spruce (Picea rubens) from our reserve, just like they did in Nazareth in the 1930's. And finally we hand-picked the blackest Ebony fingerboards and bridges for these kits. Since it's illegal to use elephant ivory, we use our finest bone for the nut and saddle.
We did add two modern features to this kit: a two-way adjustable truss rod and t-style frets. We believe if these highly adjustable truss rods existed in the 1930s they would have been installed in every model. Since bar frets are complicated to install and service, we chose t-style frets. T-style fretwire became standard on these guitars later in the 1930s.
What you see is what you get
As you know, every piece of wood is unique, and has its own story to tell. When surveying these priceless guitars, we found some with elegant interlocking grain lines, and some that were wild and dynamic. For this reason we've photographed each of these kits individually—what you see pictured in the first image is the actual wood you'll receive. And as a builder, we know you want to choose the wood that speaks to you.
Check out the vintage-correct details of your next build:
AAA Red Spruce top with soundhole and rosette channel
5A Madagascar Rosewood back, joined and cut to shape
5A Quartersawn Madagascar Rosewood sides, accurately bent
Ebony fingerboard, slotted
Madagascar Rosewood headstock overlay
Ebony bridge
Carved Mahogany neck, with precisely machined dovetail joint
Quartersawn Spruce pre-carved braces
Abalone diamond fingerboard inlays
Tortoloid pickguard, with vintage correct pattern
Unbleached bone nut and saddle
Upgraded precision-machined white Waverly Galalith bridge pins
Waverly Galalith white end pin and white strap button
Waverly Tuning Machines with Bright Nickel Butterbean knobs
Ivoroid celluloid binding
Pre-radiused frets
Herringbone top purfling
Special rosette and back purfling
Hot Rod two-way adjustable truss rod
Pre-cut heavy cardboard molds for trouble-free body assembly
Full-size blueprint and forward bracing template
Illustrated 36-page spiral-bound instruction book
71 minute, step-by-step DVD: Building an Acoustic Guitar Kit
We're with you every step of the way
This kit also comes with our industry-best customer service. Our techs are just a phone call away if you have any questions throughout the build. We also include a 71 minute DVD that is a full course in guitar building and a full scale bracing plan and blueprint so you'll have the knowledge and confidence to finish this build with ease.
Experience building your own icon today.
---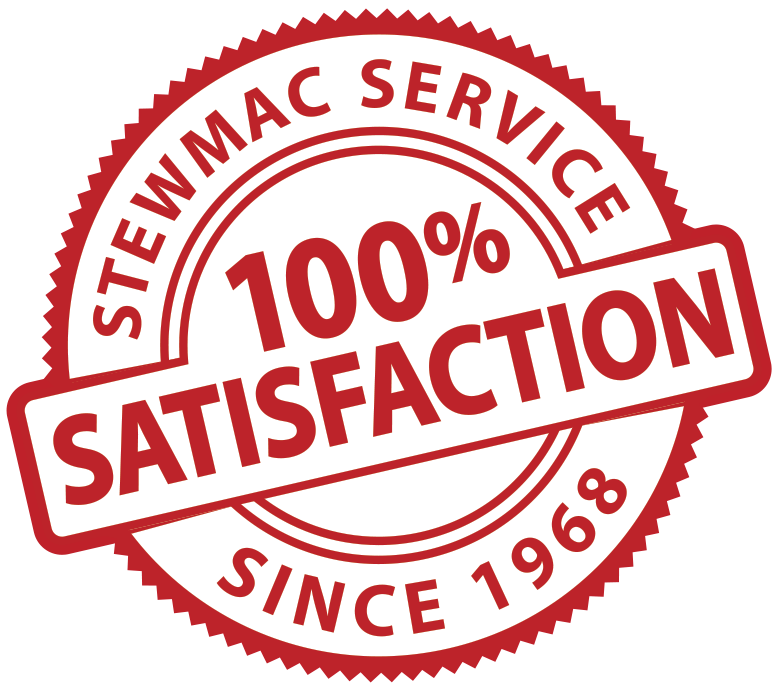 All WOODSTAX items come with our 100% satisfaction promise and no-hassle returns. If you are unhappy with the wood once you get it, simply return it in its original, unworked condition for a full refund or exchange.
California Proposition 65 Warning
Cancer and Reproductive Harm