Jumbo-45 Acoustic Guitar Kit with Torrefied Red Spruce and Mahogany - 132
Now for the first time you can build the slope-shouldered dreadnought that created a whole new sound for acoustic guitars.
This is the guitar that put Gibson® flat-tops on the map! Designed to compete with the famed Martin dreadnoughts, the sloped-shouldered shape created a whole new voice, look, and feel that players have been craving since 1942.
What sets the Jumbo-45 apart is the incredibly warm bass response, remarkable projection, and easy playability—making it unrivaled for vocal accompaniment. It's no mystery why singer-songwriters like Bob Dylan, James Taylor, and so many more have relied on this incredible instrument for decades.
The originals of the 1940s and 1950s are considered the "Golden Era" for these incredible instruments—making the handful of these vintage examples extremely coveted, incredibly expensive, and hard to find. And locating one that has been well maintained and does not need complicated and costly repair work is a daunting challenge.
You no longer have to wait to find "a good one". We've made it easier than ever to build this truly iconic guitar for yourself.
Build your workhorse
To replicate this timeless guitar, we did more than just look at photos or plans—we examined the best sounding and playing originals we could get our hands on. After years of study, precise measurement, and careful experimentation, we found the right tonewoods, brace shape, and vintage correct materials to make this acoustic powerhouse sing.
We didn't stop at only replicating the sound, we also captured the unmistakable looks of this groundbreaking guitar. We replicated gentle curves of the upper and lower bout, the unique shape of the "reverse" belly bridge, and the feel of the neck to truly capture the magic of those treasured 40s and 50s guitars. It's all there—everything but the decades of dings and scratches.
We did add one modern feature to this kit: a two-way adjustable truss rod. This was such an important advancement in acoustic guitar design—we believe if these existed in the 1940s, those original designers would have installed them too.
What you see is what you get
As you know, every piece of wood is unique, and has its own story to tell. When examining these priceless guitars, each one has its own look and individual aesthetic. For this reason we've photographed each of these kits individually—what you see pictured in the first image is the actual wood you'll receive. And as a builder, we know you want to choose the wood that speaks to you.
From top to bottom, check out the details of this one of a kind kit:
AAA Torrefied Red Spruce top (Picea rubens) with soundhole and rosette channel
AAA Honduran Mahogany back (Swietenia macrophylla), joined and cut to shape
AAA Honduran Mahogany sides, accurately bent
Madagascar Rosewood fingerboard (Dalbergia baronii), slotted
Madagascar Rosewood reverse-belly bridge
Carved Mahogany neck, with precisely machined dovetail joint
Quartersawn Spruce pre-carved braces
Pearl dot fingerboard inlays
Tortoise pickguard, with vintage correct teardrop shape
Bleached bone nut and saddle
Precision-machined white Waverly Galalith bridge pins
Waverly Galalith white end pin and white strap button
Vintage-style Golden Age Tuners in nickel with white knobs
Black and white binding
Pre-radiused frets
Special rosette
Hot Rod two-way adjustable truss rod
Pre-cut heavy cardboard molds for trouble-free body assembly
Full-size blueprint and bracing template
Illustrated 40-page spiral-bound instruction book, created exclusively for this kit
71 minute DVD: Building an Acoustic Guitar Kit
We're with you every step of the way
This kit also comes with our industry-best customer service. Our techs are standing by if you have any questions throughout the build. Included with your kit are detailed step-by-step full color instructions, full scale bracing plan, and blueprint so you'll have the knowledge and confidence to finish this build with ease. You'll also receive a 71 minute DVD that illustrates key guitar building techniques like brace fitting, binding, neck shaping and installing, nut and bridge setup, and much more.
---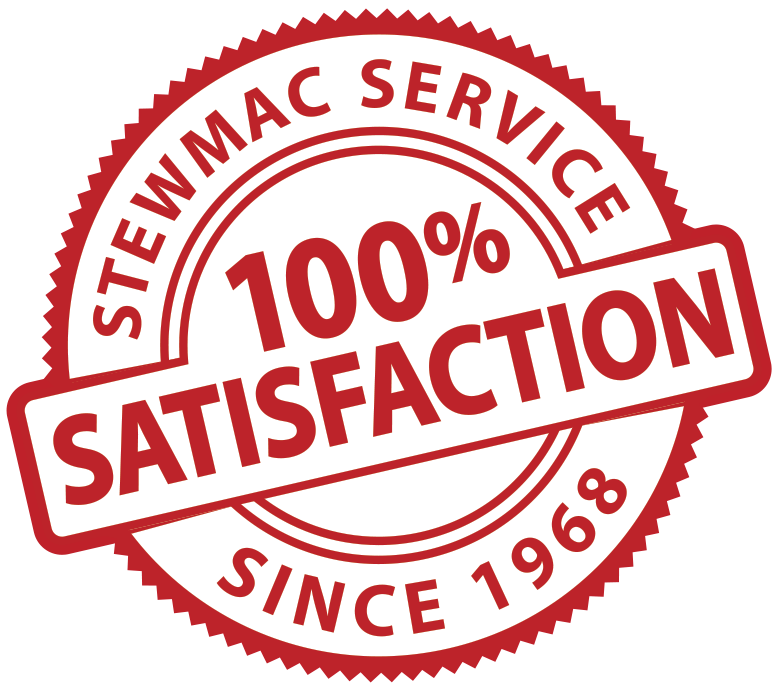 All WOODSTAX items come with our 100% satisfaction promise and no-hassle returns. If you are unhappy with the wood once you get it, simply return it in its original, unworked condition for a full refund or exchange.
California Proposition 65 Warning
Cancer and Reproductive Harm