WoodStax Claro Walnut Triple-O Guitar Kit, Bolt-On Neck - 044
What you see is what you get
We've photographed each set individually—what you see pictured in the first image is the actual wood you'll receive. Zoom in and check out each set's unique figure, grain, and every detail of your kit's back, sides, and top and get ready to build your dream guitar.
This is no ordinary 000-size guitar kit! This limited edition kit showcases our hand-selected premium tonewoods, only from WOODSTAX. We've paired Claro Walnut (Juglans hindsii) back and sides together with a torrefied Sitka Spruce (Picea sitchensis) top for an unstoppable combination of beauty, tone, and playability. Your guitar may be small in size but its tone and volume will fill any room.
The dynamic grain of Claro Walnut matches its equally compelling tone. With the clarity of mahogany and the full overtones of rosewood, Claro Walnut can capture any sound you can imagine. When paired with the responsive "broken-in" tone of torrefied Sitka Spruce, your guitar will play like an old friend and treasured heirloom from the first strum.
You don't need a shop full of tools
Perfect for beginners or pros alike! If you don't have all the specialized tools you need to thickness sand tops or bend sides, or you want a head start that will save you hours of build time, this is the kit for you. All of the critical work is done so you can start and finish this build with ease. When you open the box, you're ready to build.
These are just a few of the complicated steps that are done for you:
Carving the neck
Joining, thickness-sanding, and profiling the soundboard and back
Cutting the soundhole and routing the rosette channel
Accurately bending the sides
But wait, it gets even better...
When you buy one of our Limited Edition WOODSTAX kits you'll also receive a set of FREE Waverly Tuning Machines!
The woods in these kits are truly one-of-a-kind. That's why we've decided to include the best tuners to complete your guitar—our Waverly Nickel Tuners with Ebony Knobs for FREE. These handmade tuning machines will complete the custom look with white binding, bone nut and saddle, and ivoroid bridge pins.
This kit includes the best of everything, including:
AAA Torrefied Sitka Spruce top with soundhole and rosette channel
AAA Claro Walnut back, joined and cut to shape
AAA Claro Walnut sides, accurately bent
Ebony fingerboard, bridge, and overlay
Carved mahogany neck, precisely machined neck joint at the 12-fret, bolt-on
Quartersawn spruce pre-carved braces
Pearloid diamond inlays
Unbleached bone nut and saddle
Upgraded precision-machined Waverly ivoroid Galalith bridge pins
Upgraded matching ivoroid Galalith end pin and ivoroid strap button
FREE Waverly Tuning Machines in nickel with ebony knobs
White binding
Frets, rosette, and trim
Hot Rod two-way adjustable truss rod
Pre-cut heavy cardboard molds for trouble-free body assembly
Full-size blueprint and bracing template
Illustrated 36-page spiral-bound instruction book
71 minute, step-by-step DVD: Building an Acoustic Guitar Kit
We're with you every step of the way
When you buy one of these guitars, you get a lot more than "just" a kit, you get a complete course in guitar building.
The instruction book, written by master luthiers Todd Sams and Dan Erlewine, is extremely detailed—no other kit has anything like it. You also receive a 71-minute step-by-step DVD with Todd and Dan that walks you through every part of the process to guide you to a successful build.
Plus, our expert techs are here to help. We're just standing by for advice or support if you need it.
---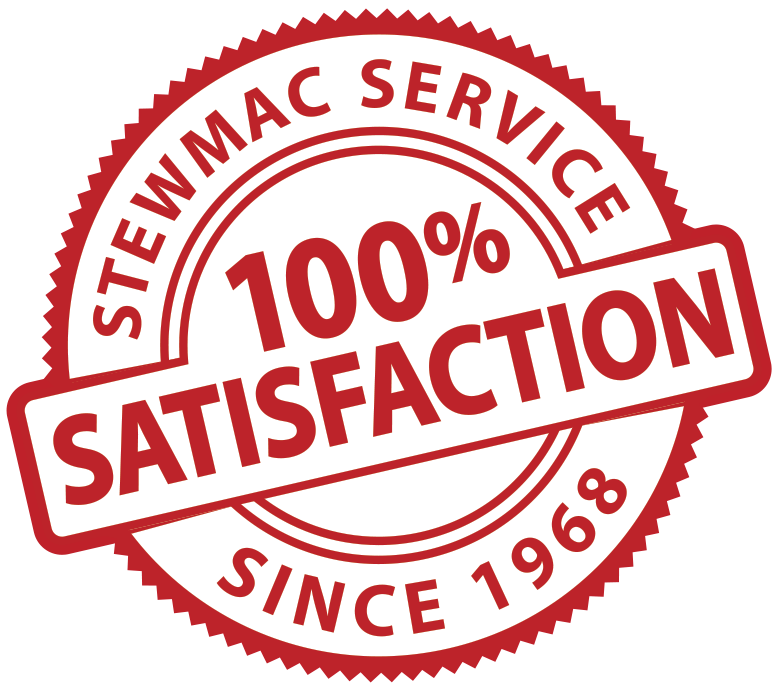 All WOODSTAX items come with our 100% satisfaction promise and no-hassle returns. If you are unhappy with the wood once you get it, simply return it in its original, unworked condition for a full refund or exchange.
California Proposition 65 Warning
Cancer and Reproductive Harm